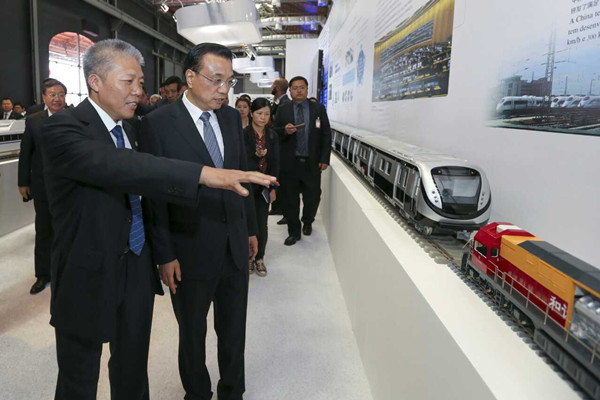 RIO DE JANEIRO – Visiting Premier Li Keqiang on Wednesday asked Chinese enterprises to sharpen edges of equipment manufacturing and bring the world more quality products which constantly meet market demand.
Li made the remarks as he took a ride on a subway train and a ferry boat in Rio De Janeiro, a metropolis with a population of 6.5 million which is going to host the 2016 Summer Olympics.
The subway company in the Brazilian megacity has ordered 604 subway and commuter trains from Chinese manufacturers. Some 90 trains which the Chinese manufacturers will deliver soon may be used for subway lines for the Olympics.
The newly designed subway trains, with sleek look, comfort in running and energy efficiency, are specially equipped with powerful air-conditioning systems for the use in Rio De Janeiro, often with high temperatures.
The ferry boat, also tailored for the upcoming Olympic host, has been widely praised by local people after its maiden voyage lately. Another six similar boats, with a capacity of carrying 2,000 passengers each, will be delivered no later than next year.
Li asked the Chinese contractors to fulfill the work of building those trains and boats, ensure timely delivery, and continue to develop new models to meet the local demand.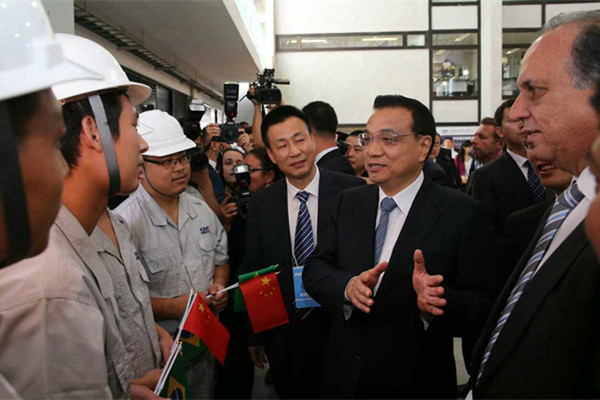 He encouraged the train and ship building companies to be pioneers in production capacity cooperation between China and Brazil, and hoped more Chinese manufacturers to get the upper hand in fierce global competition.
He enjoyed the ride as the train which started, accelerated, cruised and pulled into the station. He also talked with the driver, who told the Chinese premier that the China-made trains have mature technologies, run stably, and are able to carry more passengers.
Li told Brazilian officials, who accompanied him during the train ride, China has superior technologies and powerful equipment manufacturing capacity in railroad transport, and China-made products are cost-effective and adaptable to various markets.
After taking the boat trip, Li talked with representatives from manufacturing and financial sectors in both China and Brazil. He asked financial institutions to support production capacity cooperation between the two countries.
The Chinese side is willing to further cooperate with the Brazilian side in infrastructure construction and equipment manufacturing, which would benefit the both, Li said.
He voiced his hope that the Brazilian government will ensure legitimate rights of Chinese companies, particularly small businesses, and Chinese expatriates in Brazil.
Brazil is the first stop of Li's four-nation Latin America tour, his first to the region since he assumed premiership in 2013. Besides Brazil, he will also visit Colombia, Peru and Chile till May 26.