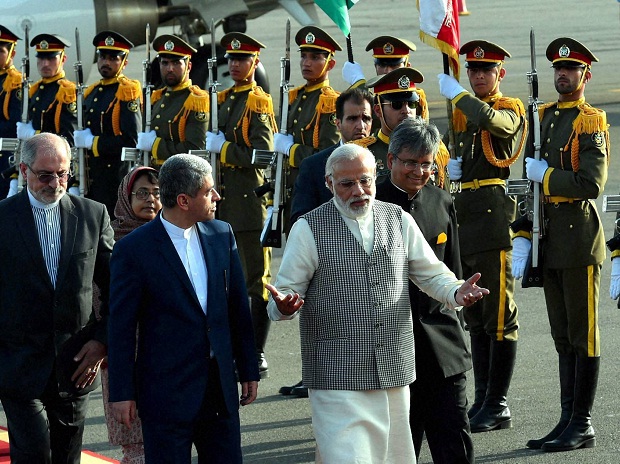 Looking to strengthen connectivity, infrastructure and energy ties with the gulf nation, Prime Minister Narendra Modi arrived in Iran on Sunday on a two-day visit, during which a crucial agreement is expected to be signed on developing the strategic Chabahar port.
Modi, who is the first Indian prime minister having visited Iran in the last 15 years, was received at the Mehrabad International Airport by Iran's Finance and Economic Affairs Minister Ali Tayyebnia, after which he left for a local Gurudwara to meet people of Indian origin here.
Formal talks with Iranian President Hassan Rouhani are scheduled for Monday morning after a ceremonial welcome for the prime minister.
Modi's visit, which formally begins on Monday, comes four months after the sanctions on Iran were lifted in a historic deal with the US and world powers.
Here are the issues which will be in focus during the trip:
1) Chabahar port: India will sign a contract to develop Phase-1 of Iran's Chabahar port during the current visit.
According to Gopal Baglay, joint secretary (Pakistan-Afghanistan-India) in the Ministry of External Affairs, Indian Ports Global Pvt Ltd will sign a contract with Arya Bandar Company of Iran for developing two terminals and five multi-cargo berths in Phase-1.
Additionally, according to Baglay, an agreement for a $150 million line of credit, from the Exim Bank, for the development of the port will also be signed.
Indian investment in Phase-1 of the project would be in excess of $200 million.
2) Trilateral transit agreement: Regional transit and connectivity appear to be the main themes of this visit. Besides the signing of the commercial contract for Chabahar Phase-1, Modi will witness the signing of a trilateral agreement on transport and transit corridor between India, Afghanistan and Iran.
Chabahar in southeast Iran will serve as a transit hub and help open up a route to landlocked Afghanistan.
From the Chahbahar port, the existing Iranian road network can link up to Zaranj in Afghanistan, about 883 kilometres from the port. The Zaranj-Delaram road constructed by India in 2009 can give access to Afghanistan's garland highway, thereby establishing road access to four major cities — Afghanistan-Herat, Kandahar, Kabul and Mazar-e-Sharif.
3) Oil dues: Ahead of the prime minister's visit, according to sources, Indian refiners cleared part ($1.2 billion) of the Rs 44,890 crore ($6.4 billion) owed to Iran for crude oil imports in euros through Turkey's Halkbank.
During the visit, discussions on the mode of clearance of Indian refiners' past oil dues, built up due to the sanctions imposed on Iran, will be held.
India is one of the biggest buyers of Iranian crude, and is set to import at least 400,000 barrels per day from Iran in the year from April 1.
4) Energy ties: According to sources, during the visit, discussions on Indian state-run firms securing rights to develop the offshore Farzad-B gas field will be held.
A consortium headed by ONGC Videsh, the overseas exploration unit of Oil and Natural Gas Corp (ONGC), discovered the Farzad-B gas field in the Farsi offshore block in 2008, but was unable to get permission to develop it due to Western sanctions against Iran over its nuclear programme.
Last year, ONGC Videsh had submitted a $3 billion field development plan to Iranian authorities to develop Farzad-B, which is estimated to hold initial in-place reserves of 12.5 trillion cubic feet, with a lifetime of 30 years.
In fact, according to reports, ONGC might be facing a repeat of the Krishna Godavari (KG) basin fiasco in Iran, as lengthy negotiations on terms may drive it to a point where its discovered gas reserves in Farzad-B field in the Persian Gulf may be drawn out by neighbouring Saudi Arabia.
5) Cultural ties: The two nations also plan to revive their age old friendship by jointly organising a series of programmes to promote bilateral cultural ties during the prime minister's visit.
According to C Rajasekhar, director general, Indian Council for Cultural Relations (ICCR), with the sanctions on Iran lifted this is an opportunity to take the mutually beneficial partnership and friendship between the two nations forward.
Rajasekhar also informed that the ICCR and Embassy of India in Tehran, in collaboration with Iran's Farhangistan and Sadi foundation, will organise a three-day long cultural festival in conjunction with the prime minister's historic visit.
"This includes a major international conference titled 'India and Iran, two great civilisation – Retrospect and Prospects'," he said, adding that it would focus on the journey of Persian literature, history and arts and culture in both the countries.