By following a business path less traveled, the Chinese maker of Tecno phones has found success in Africa.
(Shenzhen) – A Shenzhen-based mobile phone maker whose brands are virtually unknown in China but common in Africa is growing so quickly that even smartphone powerhouse Huawei is looking over its shoulder.
Some 7 million handsets made by Shenzhen Transsion Holdings Ltd. were shipped mainly to African countries in January alone, according to China's Mobile News trade journal. That feat helped Transsion rise to second place among Chinese mobile phone exporters, behind only Huawei, which reported 8.3 million global shipments that month.
Transsion exported about 45 million handsets mainly to African countries from Egypt to Nigeria last year, up 21 percent from 2013 sales, according to the company. Much larger Huawei shipped about 73 million units worldwide in 2014.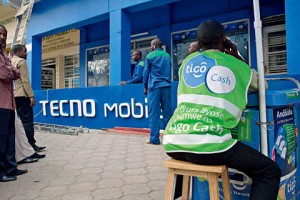 Privately held Transsion and employee-owned Huawei are headquartered in Shenzhen and work closely with contractors that operate electronics factories across southern China. But the companies have very different marketing strategies. The former focuses almost exclusively on the African market by offering budget-priced phones with locally popular features such as dual-SIM card slots and lively ring tones, while Huawei has pursued high-end smartphone markets in advanced and developing countries.
Huawei has been growing in Africa. According to the telecom research firm IDC, Africa and Middle East customers accounted for only about 2 percent of Huawei's smartphone sales in 2013. But by the second quarter 2014, that figure had increased to 10 percent.
Huawei has been expanding in Africa so rapidly that one industry source said the company may "sooner or later" threaten Transsion.
But Huawei phones are generally designed for upscale buyers, while Tecnos are popular among budget-minded consumers. Moreover, Transsion is already firmly entrenched in Africa, where it has become one of the largest telecom companies. In addition to Tecno, Transsion also owns smaller phone brands Itel and Infinix. Beyond Shenzhen and Hong Kong, the company has overseas offices in Dubai, Nigeria, Kenya, Tanzania, Cameroon, Saudi Arabia, Ethiopia, Ghana and Madagascar.
Transsion also runs a mobile messaging application called Palmchat that has nearly 60 million users, mainly in Africa. And in March, Microsoft announced an agreement through which its productivity apps will be pre-installed on Tecno phones starting this year.
Since launching its first Tecno phone in November 2007, Transsion has followed the vision of the company's founder Zhu Zhaojiang by focusing on Africa. In so doing, he's bucked a trend followed by other Chinese mobile phone makers that have concentrated on the highly competitive Asian market.
"Zhu was ambitious" about the African market from the start, said a manager who works for a Transsion supplier but declined to be named. So as the company got off the ground, its Africa-targeted "investments were huge."
Transsion does not disclose financial information. It does not identify shareholders nor has it named any executives other than Zhu, about whom little is known. Official records say Zhu is a native of the eastern province of Zhejiang who worked at a phone maker called Ningbo Bird Co. from 1996 to 2003 before starting Transsion in Hong Kong in 2006.
Transsion opened its first African office in Abuja, Nigeria, in June 2008. A month later, the company said it would "focus on Africa as its key market."
Different Approach
Many of Transsion's early Tecno phones were sold in rural parts of Africa that had been overlooked by other mobile phone companies. And most of its products were low-end, dual-SIM card phones that sold well. "The quality of the phones was good, and they were affordable," said a source close to the company, "so sales grew organically."
Tecno sold about 40,000 units in 2008, the year Nokia controlled about four-fifths of the African handset market, a Transsion sales manager, Rocky Wang, told Caixin in a 2012 interview.
In Africa, home to about 1 billion people, Transsion saw huge potential. And the company was right: The African continent is now the world's second-largest mobile phone market, just behind the No. 1 Asia-Pacific region, according to market researcher Telecoms & Media.
Transsion is one of several Chinese phone makers that's taken aim at developing countries over the past decade by offering inexpensive, "good-enough" devices that catered to specific groups of consumers.
Shenzhen-based G'Five International Ltd., for example, became one of the world's 10 largest phone makers by exporting to dozens of countries in the Middle East and Asia. Another Shenzhen phone maker, IVIO International Ltd., now has a strong foothold in Indonesia.
Yet under Zhu's command "Transsion took a different approach" to the mobile phone market, said Wang Yanhui, secretary-general of the Mobile Phone China Alliance, a trade group. "Instead of seeking quick returns, it set up a standard sales network and carefully built channels."
Today, Wang said, Tecno brand's image "has been established." Tecno phones even received worldwide attention last year during the 2014 World Cup football tournament, when advertisements with its white-and-blue logo appeared on global broadcasts of the games.
Wang said Transsion is a robust marketer in Africa that's sponsored huge ad campaigns. And Tecno phones often get positive reviews on a Kampala, Uganda, -based mobile phone-market website called www.dignited.com.
A reporter who visited a wholesale telecom market in Tanzania frequented by mobile phone dealers recently said he saw "Tecno's sign everywhere. Its posters are on every shop, billboard and window."
A source with a company that does business with Transsion said the company's "marketing approaches are quite traditional. It just combines advertisements with its expanding dealer network."
Transsion "pays attention to brand-building and local customer habits. It also works to cultivate customer and dealer loyalty," the person said. And unlike Huawei and other Chinese mobile phone makers that have waited until recently to rev up their business motors in Africa, Transsion "moved in earlier and paid more attention to detail."
Through the years, Transsion has faced a variety of challenges from competitors as well as makers of knock-off phones. But it's held fast to its Afrocentric business plan.
Transsion has even shifted some of its manufacturing to Africa. In addition to a research center in Shanghai and four factories in Shenzhen, Transsion says it operates an assembly plant in Ethiopia. And Wang Yanhui said the company is expanding its research and development unit.
Tecno phones are thus likely to continue winning customers in Africa, a region that IDC said saw smartphone sales jump 108 percent in 2014 from the year before. That dramatic growth trend, IDC said, is likely to continue.