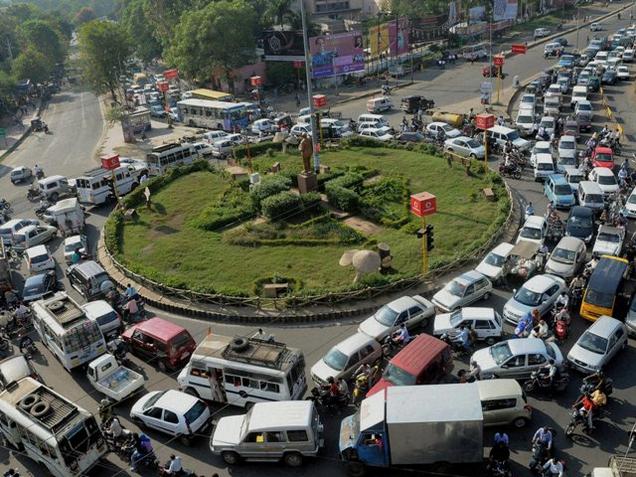 India's suicide and road accident capital is an unlikely city – Bhopal. New official data shows that the city recorded 56.6 suicides per 1 lakh population, and 95 road accident deaths for every lakh motor vehicles – the highest rate among 53 mega cities.
Suicide in Cities
The Accidental Deaths and Suicides in India report for 2014 was released by the National Crime Records Bureau on Friday. The data reveals that city residents are more likely to commit a suicide than the rest of the country. Cities have a suicide rate of 12.8, compared to all-India rate of 10.6. Srinagar has reported the lowest rate at 0.7.
Following Bhopal, are Kollam and Asansol, with suicide rates of 40.3 and 31.3 respectively. Five cities – Chennai, Bengaluru, Delhi, Mumbai and Bhopal – together comprise of 40 per cent of total suicides in these mega cities. Mumbai, however, has a lower suicide rate at 6.5, than the national average. At 177.1 per cent, Bhopal recorded the highest increase in number of suicides, while Kanpur showed a significant decline of 78.7 per cent.
Out of total 20,621 suicides in cities during 2014, 23.6 per cent were educated up to matriculate/ secondary level.
Road Accidents in Cities
With 81,510 reported cases, road accidents accounted for 97.4 per cent of total traffic accidents in mega cities, during 2014. Among road accidents, 19.6 per cent were fatal. Delhi city accounted for 8.3 per cent of total fatal road accidents, the highest among cities.
Bhopal, Kolkata and Aurangabad recorded the highest fatal road accident rates at 95, 86.9 and 74.7 (for every lakh motor vehicles) respectively.
Dangerous or careless driving and over-taking were the leading causes, accounting for 39 per cent of total fatal road accidents. Over-speeding caused 31.2 per cent of fatal road accidents. Vijaywada reported 67 per cent of the total 499 deaths due to drunken driving in cities, while Kolkata recorded maximum cases of road accidents at pedestrian crossing, with 2,189 of total 7,770 cases.
Keywords: Road accidents, road accidents in India, Accidental Deaths and Suicides in India report