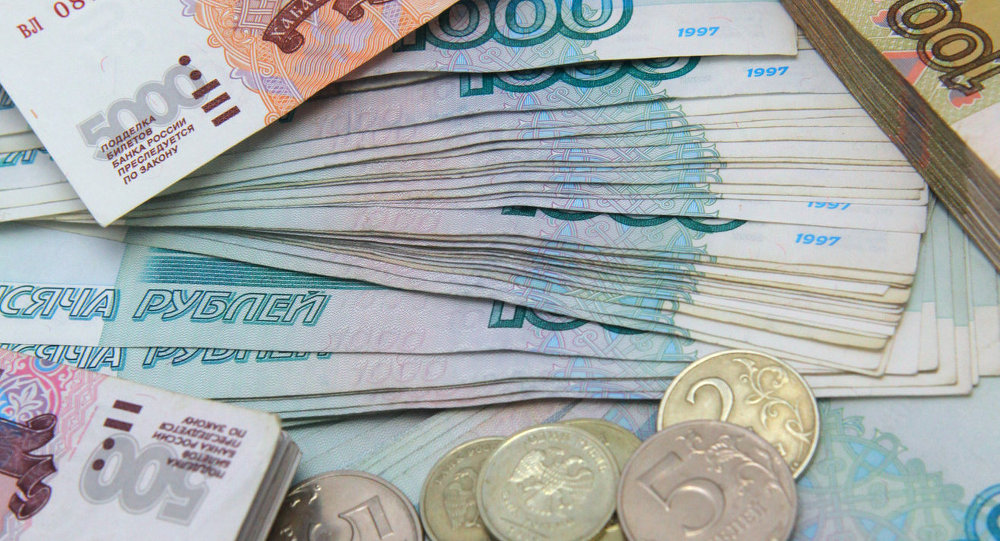 The outlook for Russia's earnings from oil exports is improving as the price of a barrel of crude in ruble terms rose to the highest in more than five months.
The currency's 2.8 percent advance this month has lagged a gain of 18 percent in Brent crude, which is used to price Russia's main export blend. The exchange rate's relative weakness means the government is earning more from sales of the dollar-denominated commodity. The ruble slid 0.5 percent to 65.530 per dollar by 4:46 p.m. in Moscow, the most among 24 emerging-market countries tracked by Bloomberg, while Brent rose 2.3 percent to $46.77 a barrel, or 3,059 rubles.
The oil-price recovery is bringing relief to the government as it seeks funds to bridge what analysts project will be the biggest budget deficit as a percentage of economic output since 2010. This year's fiscal plan was based on the state receiving 3,165 rubles for each barrel it sells. The price fell to as low as 2,245 in January.
"The ruble lagged oil on its way down, and now it's lagging on the rebound," said Konstantin Artemov, a money manager at Raiffeisen Asset Management in Moscow. "In our understanding, the equilibrium price is around 3,000 rubles per barrel."
Bonds Gain
The 60-day correlation between the ruble and oil has weakened from a record high 0.85 reached earlier this month and was at 0.81 on Wednesday. A reading of 1 indicates the two are moving in lockstep.
Russia may not be able to meet its goal of keeping its budget deficit at 3 percent of gross domestic product this year, First Deputy Finance Minister Tatiana Nesterenko said on April 20. The share of oil and gas income in its budget revenue shrank to about a third in the first quarter from more than 50 percent several years ago.
"At the moment, it's hard to believe in sustainable appetite for the ruble below 65," said Evgeny Koshelev, an analyst at SocGen's Rosbank PJSC unit in Moscow. "There's too many side-effects appearing at once in the balance of payments." The side-effects from a stronger ruble include an increase in imports and demand for cash and an inflow of speculative capital, Koshelev said.
Russian bonds gained on Wednesday, with the yield on 10-year securities falling three basis points to 9.22 percent. The debt has declined this month as analysts project the central bank will refrain from resuming a cycle of interest-rate cuts when it meets on Friday.
The Finance Ministry sold all 10 billion rubles of February 2027 fixed-coupon bonds and 9.73 billion rubles of 15 billion offered of January 2025 Ruonia floaters at auctions today.
The Micex Index of equities declined for a third day, led by a 1.8 percent retreat in Lukoil PJSC and a 1.3 percent fall in Novolipetsk Steel PJSC.