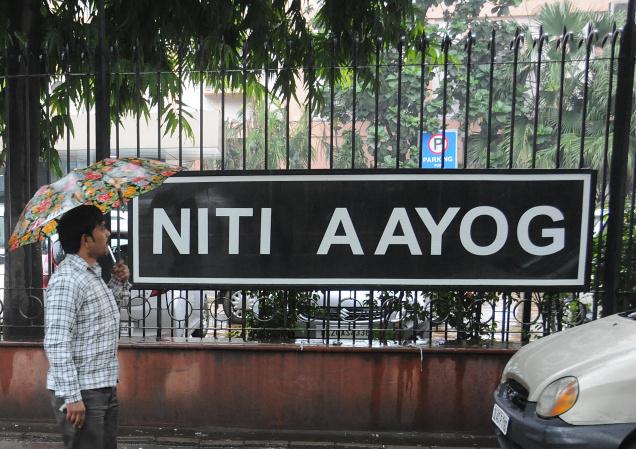 NEW DELHI: India is readying a raft of far-reaching reforms in the neglected agriculture sector, often seen as a politically sensitive subject, by trying to pitch the Niti Aayog's blueprint directly with the states.
Liberal contract farming, direct purchase from farmers by private players, direct sale by farmers to consumers, single trader licence, single point levy of taxes and taking fruits and vegetables out of the mandi laws are among anumber of measures being considered by the government to unshackle agriculture.
The reforms are part of a blueprint drawn up by Niti Aayog to double rural income in five years as promised by Prime Minister Narendra Modi.
Niti Aayog has proposed a three-pronged strategy to usher in reforms in agriculture in the short run. The big-ticket changes mooted and driven by the government's think tank include state-level agriculture marketing, land leasing and forestry reforms, which the Aayog feels would push the sector onto a higher growth trajectory.
Niti Aayog member Ramesh Chand has made a comprehensive presentation to the PMO on the immediate changes that if made by states, since agriculture is a state subject, can result in big gains for farmers.
"We have proposed changes needed in the agriculture sector to double farm income, which in turn will lift farmers out of poverty. We are pursuing with states for reforms which can happen immediately so that there are evident changes on the ground over the next one year," Chand told ET.
The Aayog is pushing states to change their land lease law in line with the central legislation to suit their needs besides liberalising norms governing forestry on private land and at least 10 changes under the Agriculture Produce Marketing Act to make it more farmer friendly, Chand said.
The key proposals of Aayog under the agriculture marketing reforms include liberalising contract farming, allowing direct purchase from farmers by private players, allowing direct sale from farmers to consumers, providing for single trader licence to operate in APMC market, single point levy of taxes, taking fruits and vegetables out of the APMC Act, rationalsation of taxes on agriculture commodities, implementation of e-NAM, and lastly, to de-link the provision of compulsory requirement of shops in the APMC market for registration as traders.
Having got a go ahead from the PMO, Niti Aayog will meet principal secretaries of all states on Friday to apprise them of Centre's vision for the agriculture sector. Following this, the Aayog would meet the agriculture ministers of states to push for reforms and if needed, the Aayog will seek intervention from the prime minister to route the proposed changes through the chief ministers of states, reflecting government's urgency to reform the sector.