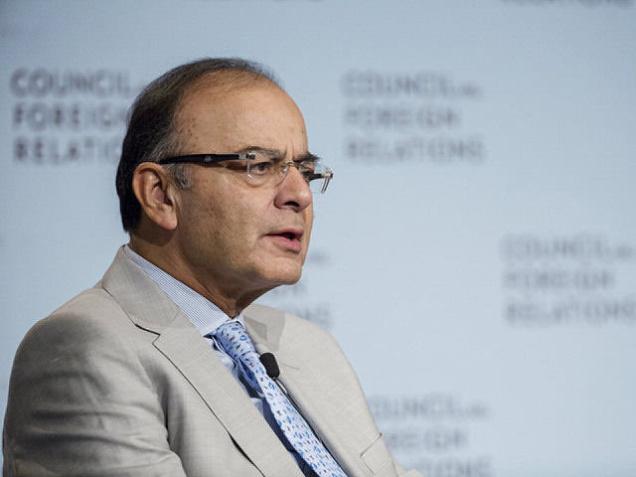 Mr. Jaitley said that his government has covered a "lot of distance" in the one year that it has been in power.
Finance Minister Arun Jaitley has said that the next two to three years will be "very critical" as the government plans to implement a series of reforms that will help India reach its "destination targets" of growth higher than the current 7-7.5 per cent rates.
"(In) India today neither the government, the people or the industry are very excited about a 7-7.5 per cent growth rate because everybody realises, including me and the Prime Minister that probably our potential is a little higher than that," Mr. Jaitley said in New York on Thursday.
During a discussion with president of investment firm Warburg Pincus and former U.S. Treasury Secretary Timothy Geithner organised by the think tank Council on Foreign Relations, Mr. Jaitley said that his government has covered a "lot of distance" in the one year that it has been in power.
"Having covered this distance, the next two-three years are going to be very critical because the series of reform steps, which are in the pipeline, are all to be implemented. We now have identified all the problem areas and one by one as we go resolving most of them, hopefully we should reach what our destinations targets are," he said.
Mr. Jaitley, who is on a 10-day trip to the U.S., said the macroeconomic indicators and "bare statistics" look good but the aspirations are much higher. He said in the last few years, India's credibility as an economy was being shaken.
"The last few years we lost the way once again. The reason why we lost way (is that) in terms of political administration and in terms of policy, we went wrong. In terms of political administration, within the government structure the Prime Minister never had the last word, authorities were outside the government structure — the kind that could happen in a communist state. Devoid of that political authority, decision making came to a standstill. The Prime Minister did not have the last word and there were serious apprehensions that decisions were being taken or not taken for the wrong reasons," he said.
He said that on the policy front, where the country went wrong was that the government started concentrating not on increasing productivity or generating wealth but on just distributing what the country already had. "It did not work. We were falling off the global radar but in India there was a huge change that had taken place between the 1970s and this generation where people were getting restless and they knew this is not our potential," he said.
Mr. Jaitley said the results of the 2014 national elections showed that "charismas of dynasty," which had a very important role to play, did not work. "(Narendra) Modi's personal acceptability was about 15-20 points higher than the party's acceptability. That means the leader was growing taller than the party because of his image of being decisive. Obviously the aspirations are going to be very high. We had a dual task of expanding businesses, encouraging economic activity to increase and at the same time being concerned because you have to blend it with prudent politics," the Minister said.
Underlining that people do not invest in "uncertain environments," he said as the new government came into power, it gradually opened up the economy to boost growth. Taxation structures had to be rationalised and a major announcement has been made that the direct corporate tax rates will come down to 25 per cent over the course of four years.
"We could not afford to live with a much higher taxation regime because that would distract investment coming into India. It is a very difficult reform particularly because populist politics thinks that it is a big concession you are making to the industry but eventually that is where jobs are going to be created," he said.
On the Goods and Services Tax Bill, Mr. Jaitley said it has been passed by the Lok Sabha and is pending before the Rajya Sabha, which has sent it to a committee. "Broadly the majority support in the committee seems to be for the bill," he said even as he acknowledged that he is "running against time" on the GST reform. He said the government intends to implement the GST from April 1, 2016.
"This reference to the committee has actually shortened the window of time available to me. I now have to run faster to in order to catch up. If nothing unusual happens, hopefully I make it. So I am conscious of the time constraint," he said.
When asked if more sectors will be opened up for higher stakes of FDI, Mr. Jaitley said the government has reviewed FDI "in favour of opening out. If you would expect these sectoral caps to immediately go up in all sectors, may be not but gradually that is the movement in that direction."
On land reforms, Mr. Jaitley said the 2013 land law has been "misrepresented" as a farmer friendly law. It is in fact the "most unfriendly law to the rural sector" as it prevents irrigation projects, rural roads, rural electrification projects because it does not make land available for them.
"It prevents low cost housing in rural areas and prevents industries being set close to rural areas," which can serve as an alternate source of employment to those in the rural areas.
He pointed out that regarding manufacturing, land is one issue "but I don't think it will be that critical an issue. I emphasise on the Land Bill because land available near rural residences, villages will enable job creation there."
He also said the government will go for privatisation in some sectors and for the first time commercial mining will be permitted.
Keywords: Arun Jaitley, Jaitley US visit