New National Union of Mineworkers general secretary David Sipunzi says his priority will be to return the union to its former glory.
Frans Baleni and Thsimane Montoedi have been booted out from their positions as general secretary and deputy general secretary of the National Union of Mineworkers, a move likely to change the balance of forces within the labour federation Cosatu.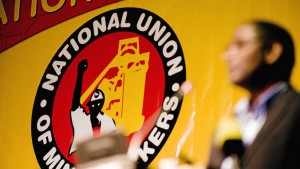 Free State regional secretary David Sipunzi was elected as general secretary, and North East [Limpopo] regional secretary William Mabapa his deputy at the union's national congress in Johannesburg, which ended on Friday. Former deputy president Piet Matosa was elected new president, with Joseph Montiesetsi as his deputy.
Both Sipunzi and Mabapa told the Mail & Guardian their priority would be to return NUM to its former glory as the most influential union in the mining industry. The union has lost close to 100 000 members over the past few years. Most NUM members, said to be unhappy with the previous NUM leadership, have joined the rival Association of Mineworkers and Construction Union [Amcu].
Sipunzi said the congress's theme of "Back to Basics" meant leaders needed to get out of their comfort zone and interact with ordinary members.
Recouping members
"We need to recoup the members we lost in the past few years. No trade union can have dignity without members. We urge all those who left to come back.
"The NUM is home for all mineworkers," said Sipunzi, acknowledging that NUM leaders had lost touch with ordinary members.
"We need to sit down with the membership and decide on what needs to be done to correct the situation. We need to address the disillusionment of staff members and recruit back the members we lost," said Sipunzi. Mabapa said he was prepared to work hard to set the union back on its feet.
"It's going to be a big mountain to climb, but it has to be done," said Mabapa, adding that he would focus on administrative work, leaving the politics to the new general secretary and president.
"There's a lot of things that need to be changed. You need not to be in someone's good books to feel you are welcome as a staff or union member. We will make sure structures are vibrant again," said Mabapa, who contested the same position and lost to Montoedi during the previous national congress in 2012.
Sipunzi and Mabapa's election is expected to shift the balance of forces within Cosatu. Both men are sympathetic to expelled general secretary Zwelinzima Vavi and the National Union of Metalworkers of South Africa [Numsa]. Numsa was also expelled from Cosatu after it resolved not to support the ANC at its special national congress in December 2013.
Baleni is seen as a close ally of Cosatu president Sdumo Dlamini, ANC secretary general Gwede Mantashe, SACP general secretary Blade Nzimande and President Jacob Zuma.
Sipunzi told the M&G the new leadership would engage NUM and Vavi to find a lasting solution to the divisions within Cosatu.
"We need to unite the labour movement. We will talk to Numsa and Vavi. There is a need for a bilateral between ourselves and Numsa leadership. You can't talk unity within Cosatu without Numsa and Vavi. Vavi is a prominent leader [in South Africa]. You need to engage him," said Sipunzi.
'Dismissal was not the only option'
Mpho Phakedi, regional secretary of NUM's largest region PWV [Gauteng], which supported Sipunzi's candidacy, said he was unhappy with the decision to expel Vavi and Numsa from Cosatu.
"Personally I am not happy with Vavi out. I understand the organisational processes. But what matters is to ask if that if [expelling Vavi and Numsa] is uniting Cosatu. I think the matter could have been handled differently. Dismissal was not the only option. You can realise what the dismissal of Numsa does to Cosatu—not only organisationally—but financially. Dismissing over 300 000 members is a blow to Cosatu. They [Numsa] are powerful politically," said Phakedi, adding he hoped the new NUM leadership would bring energy back to the organisation.
"There is a change politically in terms of how we do things in the NUM. We want to bring some vibrancy. We want people who will be on the ground talking to members. We need leaders who can avoid [a] personality cult," said Phakedi.
He said NUM had progressive policies but they had not been implemented by the previous leadership.
"The policies of NUM are still intact, but implementation was not happening. We had a problem with how things were articulated. We support the ANC 100% but we don't want to compromise our own positions because of the ANC," said Phakedi.
He said the previous leadership had failed to articulate NUM's position on e-tolls, which was to scrap the system. He said the former leaders had not been able to articulate NUM's position correctly and that had an impact on Cosatu.
The Cosatu leadership aligned to Dlamini has been blamed for failing to implement Cosatu resolutions, including embarking on anti e-toll campaigns.
"We want a Cosatu that is worker-biased and put the interests of workers first," said Phakedi.
Sipunzi said the new leadership would ensure the union addressed the issue of e-tolls aggressively.
"The NUM represent the poorest of the poor. There is no way we can distance ourselves from e-tolls," said Sipunzi.