Nepali Prime Minister Pushpa Kamal Dahal said on Wednesday that collaborative development projects under the framework of the trans Himalayan cooperation among China, Nepal and India can be mutually beneficial for all the three countries.
Addressing a seminar entitled "Trans-Himalayan Cooperation beyond Trilateral Discourse" organised by the National Development Institute in Kathmandu, the Nepali prime minister said that Nepal can serve as an important transit corridor between China and India.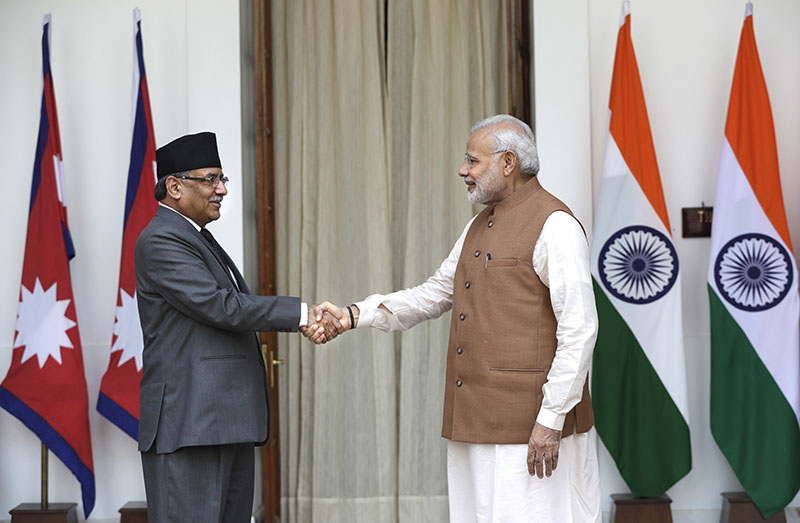 "To realize that role for Nepal, and indeed to resurrect that role of Nepal, we need to invest in infrastructures –build multilane highways and railways that can join the big economic giants of north and south," he said, adding "A huge amount of capital needs to be injected to build such infrastructures. Countries of the trans-Himalayan area especially India and China can cooperate to invest in such projects of infrastructure build-ups."
The prime minister also said that the prospect of proposed concept of trilateral cooperation has received positive response from leaders of China, Nepal and India.
"Few weeks ago in Goa of India, I held meetings with Indian Prime Minister Narendra Modi and Chinese President Xi Jinping where I reiterated the necessity of trilateral cooperation."
The prime minister praised China and India's policies to give priorities to their immediate neighbourhood.
"India has been pursuing 'neighbourhood first' policy. And, China's neighbourhood policy or peripheral diplomacy is gaining traction. Similarly, maintaining harmonious relations with the neighbourhood remains our priority. This commonality of approach is a huge opportunity for us," he added.
"China's one Belt and one Road Initiative along with Silk Route Fund can be a helpful framework to invest in trans-Himalayan infrastructures in China, Nepal and India," he said adding "Similarly, the BRICS Bank (New Development Bank) can be another source of funding for such infrastructures."
Meanwhile, Nepal's Former Foreign Minister Dr. Bhesh Bahadur Thapa said that the enhanced trilateral cooperation among China, Nepal and India is an opportunity for all the three countries in the changed global context.
During the one-day seminar, foreign affairs experts from China, Nepal and India talked about the challenges and opportunities of the trans Himalayan cooperation among the three countries.