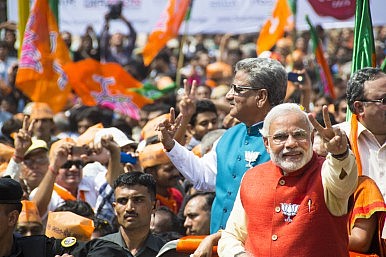 Indian Prime Minister Narendra Modi will visit Central Asia and Russia for the first time next week–with counterterrorism and energy topping the agenda. The eight-day trip (July 6-13) will kick off with state visits to Uzbekistan and Kazakhstan July 6 and 7. Then Modi will head north to the Russian city of Ufa for the combined BRICS/SCO summit from July 8 to 10. After the two day summit, Modi will return to Central Asia, visiting Turkmenistan, Tajikistan, and Kyrgyzstan before heading back to New Delhi on July 13.
This will be Modi's first visit to the region but follows an initiative first mentioned in 2012–the Connect Central Asia policy. The policy is aimed at building up political, security, economic and cultural ties between India and Central Asia. Although there have been high-level visits–Modi's predecessor Manmohan Singh also traveled through the region and Indian President Pranab Mukherjee was in Moscow in May to celebrate Victory Day–multilateral organizations have been the policy's linchpin. Just as the BRICS/SCO summits anchor the upcoming trip, they anchor India's involvement and aspirations in the region.
In 2005, India joined the SCO as an observer and last September, India applied for full membership in the organization that was founded in 1996 as the Shanghai Five–China, Russia, Kazakhstan, Tajikistan and Kyrgyzstan. To date, the organization has only admitted one additional full member: Uzbekistan in 2001, at which time it renamed itself as the Shanghai Cooperation Organization. The two drivers of the SCO–China and Russia–have made it clear they favor expansion–especially to India and Pakistan. But despite talk last year, and the finalization of procedures to take on new members, there hasn't been a formal announcement.
India's regional interests can be simplified to counterterrorism and energy, but there are also important, though largely symbolic, cultural links between India and Central Asia. Another reason for India's involvement in the region is China–which has made considerable inroads economically.
Uzbekistan is a notable first stop precisely for reasons of history. The founder of the Mughal Empire, Babur, was born in the Fergana Valley and the Silk Road that connected and enriched all of Asia traveled through the ancient cities of Samarkand and Bukhara in modern Uzbekistan. Uzbek President Islam Karimov has made five trips to India, most recently in 2011.
In Kazakhstan and Turkmenistan, energy is likely to dominate the agenda, followed closely by counterterrorism. Turkmenistan is the origin of the long-discussed TAPI pipeline and is eager for customers–while Russia has measurably decreased the amount of gas it imports from Turkmenistan, China imports of Turkmen gas have soared, causing Ashgabat to look to Europe and India for diversification. A pipeline from Kazakhstan to India was rumored in 2013 but little has been said since. Nonetheless, Kazakhstan's economy is the region's largest and trade with Kazakhstan accounts for almost half of India's trade with the whole region. Still, India features less as a trade partner regionally–China and Russia dominate.
Last year, the Kazakh Ambassador to India categorized the relationship as "based on equal partnership, mutual respect and understanding." He went on to say that "both countries are multi-ethnic, multi-linguistic, multi-cultural societies committed to following secular policies and to countering fundamentalism, religious extremism and terrorism."
Tajikistan, lacking energy resources and trade ties, nonetheless is a key partner in the region for India. In 2002, India constructed the Farkhor Air Base south of the Tajik capital, near the Afghan border at the site of an abandoned Soviet air base. The base, which was built initially with the purpose of supplying the Afghan Northern Alliance early in the war in Afghanistan, is India's only external military base and certainly contributes to Pakistan's paranoia of being encircled by Indian allies. It is unclear how much, if at all, the base is used. Modi's time in Tajikistan will be squarely focused on the threat of terrorism, anyway–whether from the Taliban in Afghanistan or ISIS(which I have previously referred to as a ghost threat in the region.)
Kyrgyzstan, Modi's final stop, is also the region's only actual democracy–albeit a weak one plagued by periodic revolutions and influenced by Russian policies (see articles on pending 'foreign agents' and 'anti-gay propaganda' laws). In March, India and Kyrgyzstan participated in a joint military exercise outside of Bishkek, predictably counterterrorism was the main focus. "It's very important to cooperate with the armed forces of India to fight together against extremism and terrorism," Kyrgyzstan's deputy chief of the general staff, Zhanybek Kaparov, said. Expect their mutual democracy to be celebrated in Bishkek as well as one last chance to make note the threat of extremism across the Central and South Asian region before Modi returns to India.