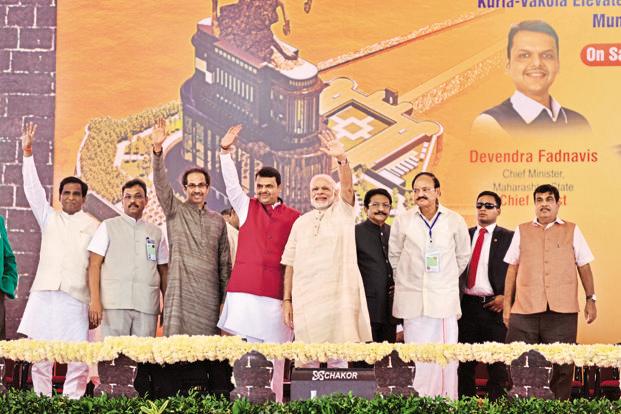 Mumbai: Maharashtra's Bharatiya Janata Party (BJP) government is betting on large infrastructure and urban development projects to secure an edge in municipal elections in Mumbai, Pune and Nagpur due early next year.
Currently, the BJP rules the Nagpur Municipal Corporation and is a junior partner with 31 members in Mumbai. In the Pune corporation ruled by the Nationalist Congress Party (NCP), the BJP is in the opposition with 26 corporators. In the February 2017 civic elections in these three cities and seven others, the BJP hopes big-ticket projects being pushed by its governments at the Centre and the state will help position it as the natural party of urban governance as compared to other parties, including the Shiv Sena.
On 24 December, as Prime Minister Narendra Modi laid the foundation stone for infrastructure projects worth Rs1.17 trillion in Mumbai and Pune, the political choreography around the events suggested the BJP had launched its campaign for civic elections. Modi himself led this effort when he claimed that rarely before had a government inaugurated projects worth over Rs one trillion in one go for Mumbai.
In Pune too, where Modi launched the first corridor of the Pune Metro worth Rs. 11,400 crore, he reminded people that the project had been pending for a long time — from the Congress-NCP years. Chief minister Devendra Fadnavis said his Congress predecessor Prithviraj Chavan had returned the Pune Metro file as many as 256 times, taking a dig at Chavan who had performed a 'bhoomipujan' for the same Metro project just a day earlier to protest against what he called the BJP government's "regional discrimination against Pune". The work on the Rs. 532 crore metro for Nagpur — Fadnavis's hometown — is being executed by IL&FS Engineering Services, and it was the Fadnavis government which put it on the fast track in 2015.
The BJP game-plan for the civic elections, in particular for these three cities, is riding on long-pending and delayed infrastructure projects which it claims have been fast-tracked in the last two years. In Mumbai, the BJP government is particularly keen on the Mumbai Trans Harbour Link project (MTHL), a 22-km-long six-lane sea-bridge worth Rs. 17,843 crore that has been in the works for over 15 years. "This government has revived the project when it had nearly become a non-starter in 2013. All clearances are in place and we have also been able to source long-term credit from Japan International Co-operation Agency. We realistically aim to begin physical work in 2017," said a senior Maharashtra bureaucrat who did not wish to be named.
That infrastructure development is key to winning civic elections especially in Mumbai is a fact which is not lost on Shiv Sena chief Uddhav Thackeray too, who is facing a serious challenge from an ascendant BJP in Mumbai. On Sunday, Thackeray urged Modi to give environmental clearance to the Rs. 12,000 crore Marine Lines-Kandivali coastal road project which the Sena-ruled BMC plans to implement. "Uddhav Thackeray knows that this big project is the only infrastructure trophy he has against the blitzkrieg of projects the state government has unleashed in Mumbai. He also knows that the next Mumbai election is more about development than emotive or identity issues," said a BJP strategist who did not wish to be named.