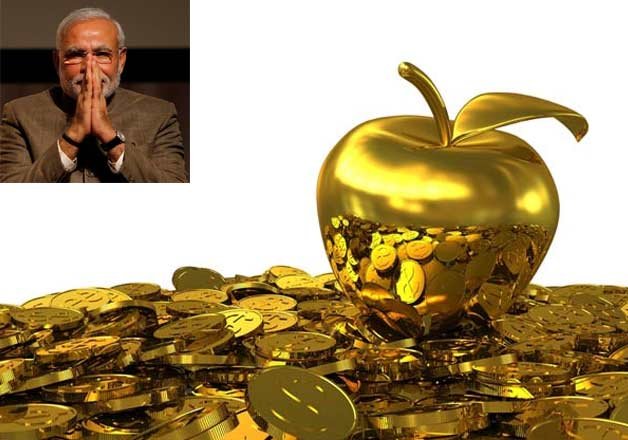 New Delhi: Prime Minister Narendra Modi on Thursday launched three ambitious schemes to reduce the physical demand for gold and fish out 20,000 tonnes of the precious metal worth $800 billion lying idle with households.
The gold monetization scheme (GMS) 2015 will offer option to resident Indians to deposit their precious metal and earn an interest of up to 2.5%, while under the sovereign gold bonds scheme, investors can earn an interest rate of 2.75% per annum by buying paper bonds.
Modi also unveiled the first ever Indian gold coin and bullion, bearing national emblem Ashok Chakra on one side and Mahatma Gandhi's image engraved on the other side. Initially the coins will be available in denominations of 5gm and 10gm. A 20gm bullion will also be available through 125 MMTC outlets.
Speaking on the occasion, Modi said India has surpassed China as the world's largest gold consumer, buying 562 tonnes of yellow metal so far this year, against China's 548 tonnes. "People should take advantage of the golden opportunity to help India march to a golden period," he said.
Observing that there is no reason for the country, which has 20,000 tonnes of gold lying idle with households and institutions, to remain poor, he said, with some efforts and right policies, India can get rid of this tag of (poor nation). Recalling India's tradition of savings and culture of empowering women with gold, he said in a lighter vein, even the central bank governor Raghuram Rajan will have to recognize the difference between "arthashastra (economics) and grahshastra (home economics)."
Various schemes launched on Thursday will increase the availability of gold and bring down its import. India currently imports around 1,000 tonnes of gold every year, leading to outflow of forex reserves.