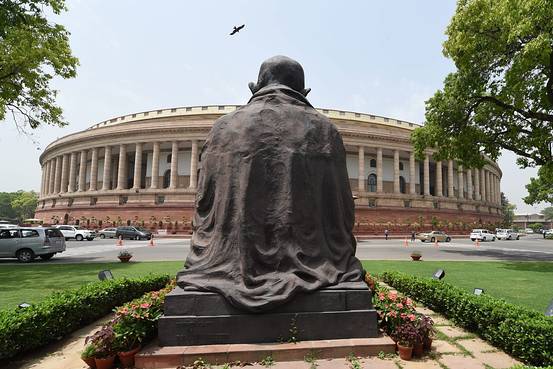 When India's Parliament resumes late July, Prime Minister Narendra Modi is hoping to rally support for at least two legislative proposals his government sees as crucial to its economic agenda.
But a controversy involving India's foreign minister and a senior member of Mr. Modi's Bharatiya Janata Party is threatening to disrupt Parliament, raising questions over whether the Indian premier will be able to deliver land-acquisition and taxation-policy changes, already delayed for months, that he has promised.
For days, Foreign Minister Sushma Swaraj and the chief minister of the state of Rajasthan Vasundhara Raje Scindia have faced a political and media onslaught over accusations that they improperly extended help to a cricket tycoon who is under investigation by Indian authorities over alleged financial irregularities. The BJP has said that accusations against both politicians are baseless.
This is the first big scandal to hit Mr. Modi's government since it came to power last year. Its landslide victory was, in part, a result of widespread discontent over alleged scams and corruption controversies under the previous Congress-led administration.
In recent days, Congress and other opposition parties have intensified their demands that the two BJP politicians resign, threatening to block parliamentary proceedings if no action is taken. Senior officials from Mr. Modi's government have so far refused to ask the leaders to step down, denying any wrong-doing on their behalf. Mr. Modi has not said anything about the developments, prompting criticism from his opponents.
The kerfuffle has further complicated a parliamentary session that was not going to be easy to start with. One of the two legislative steps on the government's agenda involves making controversial changes to India's land-acquisition law.
Opposition parties have called the amendments "anti-farmer" and blocked them in earlier sessions. The changes are now being discussed by a parliamentary committee whose report is intended to become the basis of a political compromise on the policy.
But a BJP distracted by trying to limit damage from the scandal may find it more difficult to push its case on the land bill. And, if opposition parties don't allow Parliament to work, the government may struggle to even bring the law up for debate and voting.
The chaos could also further delay a much-awaited law aimed at replacing a knot of overlapping national and state taxes with a single, new regime. If the government fails to pass these bills, it would diminish the confidence of investors, who are already wary of political gridlock in India, at a time when Mr. Modi is looking to attract money into the country.
Toward the end of the previous government's tenure, parliamentary proceedings were synonymous with chaos, thanks partly to Mr. Modi's BJP, which as the opposition, obstructed many moves it now champions. Routine walk-outs and disorder stymied the passage of a number of laws pursued by Congress, which for years helmed unstable coalitions.
Mr. Modi's lower-house majority promised to change that pattern. In the most-recent session of Parliament, both the lower and upper houses clocked more than 100% productivity levels–sessions generally lasted longer than their allotted times, indicating politicians were working harder with fewer disruptions.
But the BJP's weak numbers in the upper house are a stumbling block for major policy overhauls, and the recent controversy is threatening to become a further setback to Mr. Modi's agenda.
Some in the BJP are hoping the issue will lose steam before the "monsoon" session of Parliament expected to begin next month. One leader, who declined to be named, said the party would "strike back" against Congress if the controversy continued to snowball, adding that matters could "get ugly." The leader declined to specify what actions his party was contemplating.
So far, however, the BJP has struggled as the issue remains on a vigorous boil, with new allegations emerging each day.