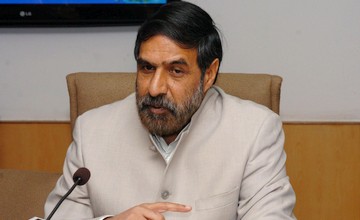 The Congress on Monday accused Prime Minister Narendra Modi of playing "partisan politics" in Bangladesh, saying he presented the Land Boundary Agreement (LBA) as his achievement though the protocol was signed during the UPA rule.
"It would have been better if the prime minister had presented it in a proper way and not his achievement…the prime minister has played partisan politics," Congress leader Anand Sharma said.
Taking digs at Modi, the Congress leader accused him of trying to rewrite history "by not recalling" the contribution of Indira Gandhi who was the country's prime minister during the 1971 India-Pakistan war which led to emergence of Bangladesh as an independent country.
Sharma said former prime minister and Bharatiya Janata Party leader Atal Bihari Vajpayee, on whose behalf Modi received Bangladesh Liberation Award on Sunday, had described Indira Gandhi as "Durga (Goddess)" following the liberation of Bangladesh.
"While receiving the award, he was not even ashamed of himself that he has come as prime minister of India and should have respected the deeds of the former prime minister Indira Gandhi," Sharma said.
Sharma, who is deputy leader of Congress in the Rajya Sabha, also took a jibe at Modi over his remark that Bangladesh Prime Minister Sheikh Hasina has resolved to fight terrorism with zero tolerance "despite being a woman".
Sharma said that south Asian countries had many woman leaders including Indira Gandhi.
"What does he (Modi) mean," Sharma said, adding that Modi's remarks were not smart diplomacy.
He said Modi should take lessons in diplomacy and take precise lessons in history so that he "does not goof up".
The Congress leader said protocol for the LBA was signed by former prime minister Manmohan Singh in 2011 but was opposed by the Bharatiya Janata Party.
He said the Congress had shown maturity and the bill for ratification of the agreement was passed in parliament in May.
Sharma alleged Modi "had not risen to the stature that PM's office expects" and the prime minister of "excluding" chief ministers of Assam, Meghalaya and Tripura from his delegation during his two-day visit to Bangladesh that concluded on Sunday.
"The prime minister is expected to show grace. He is not representing himself but the Republic of India," Sharma said.
Referring to Modi's remarks about India sending back Pakistani prisoners of war, Sharma said, it happened after Shimla agreement was signed between Indira Gandhi and then Pakistan prime minister Zulfikar Bhutto.
The LBA was originally inked in 1974 between Indira Gandhi and her Bangladesh Prime Minister Sheikh Mujibur Rahman for the purpose of exchanging enclaves and simplifying the international border between the two countries.