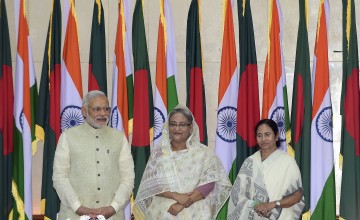 India's Land Boundary Agreement with Bangladesh was signed in 1974, during the heyday of Indira Gandhi and Sheikh Mujibur Rahman. Both were architects of what has now been "operationalised" a generation later by Narendra Modi and Begum Hasina. The significant achievement has been diplomatic and legislative no less as it comes about after considerable resentment of the Bhartiya Janata Party, when in the Opposition, and prevarication during the year it has been in power. Equally, does it underscore the extent to which Mamata Banerjee has toned down her reservations. The follow-through will be no less critical and was somewhat overshadowed amidst the euphoria over LBA.
The effectiveness of the agreement, which involves hundreds of thousands of people in the enclaves, will hinge substantially on the implementation by Bangladesh and the states in India that will be affected by the long overdue swapping of land in adverse possession West Bengal, Tripura, Meghalaya… and now Assam. Chiefly, implementation will entail the restoration of governance a non-existent commodity across the enclaves. Profoundly linked is the issue of citizenship. The residents cannot exist as "nowhere men" as in Bangladesh's border with Myanmar, not to mention North Africa. For all the four states, the exchange of enclaves will imply the transfer of land and resettlement of those who will come over. Ergo, the Centre urgently needs to take a call on the concerted demand for assistance in terms of rehabilitation, specifically the imperative for a hearth and home in hitherto "alien" land. It will call for a national effort to handle the 21st century "transfer of population" within the subcontinent.
Overall, the Modi-Mamata mission to Dhaka showcases almost unparalleled forward movement, symbolised by visuals of Hasina's hug for Mamata. No less heartwarming has been the pilot's cockpit declaration of "VIP status" for the flight availed of by the Chief Minister. The rare gesture can be contextualised with the red carpet on the aerobridge and Hasina's invitation to Miss Banerjee to the state dinner in honour of Mr Modi. Not wholly unrelated has been the go-ahead in the economic segment Hasina's offer of Internet bandwidth for the North-East, 600 acres for Indian companies to set up SEZ. and the permission accorded to LIC to do business in Bangladesh. Sad to reflect, the Indian side was less than reassuring on Teesta and Feni with Mr Modi underlining the need for "support of the state government". Will Miss Banerjee venture a river deal in an election year? Unlikely. But the fact the Chief Minister is beginning to understand that her domestic compulsions will have to be in harmony with India's external compulsions is a step forward.