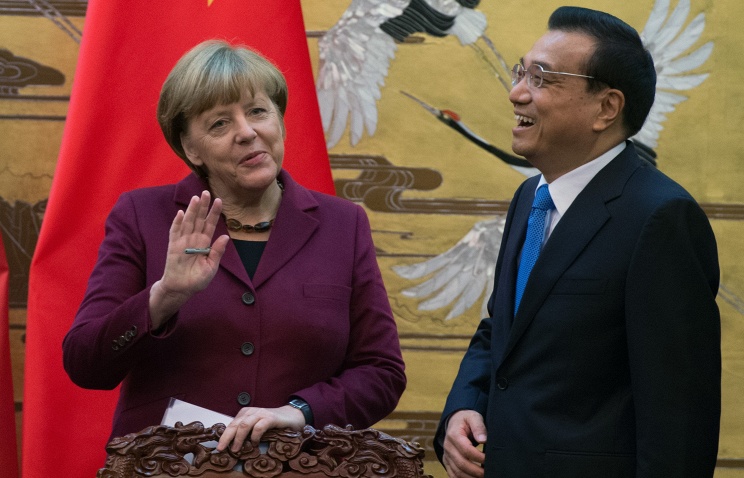 Merkel will be in China at the invitation of Premier Li Keqiang, foreign ministry spokeswoman Hua Chunying said at a regular briefing.
Her trip follows a high profile visit to Britain by China's President Xi Jinping and as French President Francois Hollande prepares to visit Beijing next month.
The European Union is China's largest trading partner, but tensions remain over market access and alleged Chinese "dumping" of products such as steel.
In recent years, European businesses — including German carmaker Volkswagen — have also faced large fines in China for violating anti-trust laws.
Benno Bunse, CEO of Germany Trade and Invest, told that China had become the largest market in the world, especially in mechanical engineering and the automotive industry, and German companies had recognized the potential.
Untapped business opportunities can be found mainly in the consumer goods market, particularly in the food and clothing sectors, Bunse said.
German direct investment in China amounted to 47.8 billion euros (US$53.05 billion) in 2013 and another 5.1 billion euros flowed into China in the following year, he said.
"The visit of the chancellor is once again driving forward the expansion of cooperation in innovative industries and the digitalization of production chains," he added.
"Especially in 2015, the year of the innovation partnership between the two countries, the new possibilities of the changing innovation environment should be shared."
Close cooperation between the two governments has strengthened and promoted intensive trade and investment relations in the past decade, he said, adding that German exports to China had more than tripled since 2004, while imports of Chinese goods had more than doubled.
Chinese investment in Germany has increased, Bunse added. China, with 190 investment projects, was the No. 1 investor in Germany last year 2014, he said.
China had thus set a new record and was also considerably ahead of the United States (168), and Switzerland (130).