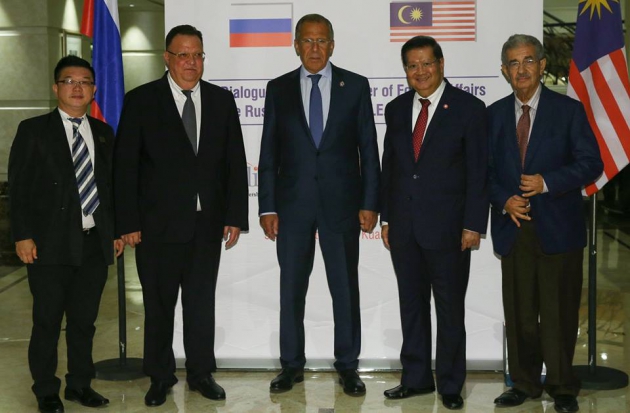 Russian Foreign Minister Sergei Lavrov, who is on a visit to Malaysia, on Thursday will take part in the ASEAN (Association of Southeast Asian Nations) Regional Forum and in the East Asia Summit (EAS).
The meeting of EAS foreign ministers is expected to focus on preparations for the tenth EAS summit due to be held in Kuala Lumpur on November 22. "The ministers will discuss cooperation in the areas of finance, energy, emergencies response, healthcare, education, and mutual dependence within the Asia Pacific region. They will also look at ways to improve the activities of the forum and exchange views on topical international and regional problems," the Russian foreign ministry said.
Russia considers the EAS as a "key element of a transparent, open and comprehensive architecture of equal and indivisible security based of the supremacy of international law, mutual trust, principles of peace settlement of disputes, non-use of force or the threat of force that is being formed within the Asia Pacific region," the ministry said. "We are confident that this forum can take a leading role in elaborating 'rules of the game' common for all countries of the region."
In this context, of special importance are further efforts to promote multilateral dialogue on the regional security architecture within the EAS. "We are determined to continue constructive discussion of this subject with the partners to arrive at a comprehensive interstate document on regional security," the ministry said.
"Results of the talks will be reflected in a statement of the president. IT is also planned to adopt a statement on the Joint Comprehensive Plan of Action on the settlement of the situation around the Iranian nuclear programme to support the Vienna agreement," the ministry added.
ASEAN Regional Forum
Discussion of efforts to counter global threats will be continues at the ASEAN Regional Forum. "Participants will discuss the most acute regional and international problems, including the situation in the Korean Peninsula, in the Middle East, in Afghanistan, and territorial disputes in the South China Sea," the Russian foreign ministry said.
"It is planned to approve updated working plans in the spheres of the fight against terrorism and transnational crime, security at sea and emergencies response, and to adopt a statement on closer cooperation in protecting maritime environment," the ministry said.