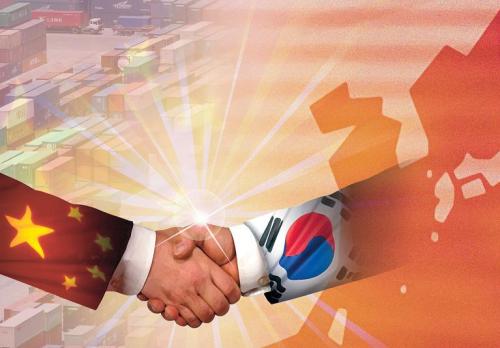 The government and the ruling Saenuri Party have agreed to work together to have the National Assembly ratify the country's free trade deal with China this month.
To this end, they agreed to set up a trilateral consultative body that includes the main opposition New Politics Alliance for Democracy (NPAD) as early as today.
However, if the opposition party refuses to cooperate, the ruling party will seek ratification on its own, according to Saenuri Party spokesman Kim Yong-nam.
"Only if the National Assembly ratifies the FTA this month can the country benefit from tariff rate cuts from the end of this year," Kim said.
The Korea-China FTA, once implemented, is expected to become one of the most significant trade deals signed by either country, boosting their annual bilateral trade by nearly 40 percent, according to the government.
Seoul and Beijing signed a free trade deal in June, but it has yet to be ratified by the respective legislatures of the two countries.
As a result, President Park Geun-hye has repeatedly urged the parliament to ratify the accord as soon as possible, saying that if the FTA is not ratified within this year, there may be a potential loss of $4 billion (4.68 trillion won) per day in exports.
Regarding the FTA issue, the NPAD has maintained that the government should first introduce support measures for agriculture and industries that will be adversely affected by the pact.
China is the world's single largest importer of Korean products, accounting for over 25 percent of overall exports in 2014.