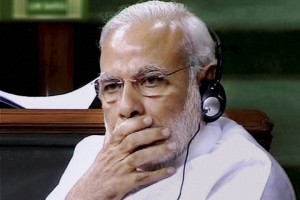 Bharatiya Janata Party's (BJP) former ideologue K N Govindacharya today questioned the policies of the Narendra Modi Government, saying that he saw the "same partial" and "corrupt" dispensation like that during the previous UPA rule.
Govindacharya, founder of outfit Rashtriya Swabhiman Andolan, also said that the prime minister has to come up with "Made for India" policies.
"The government has completed a year. But at this moment, we can't see a ground to list their achievements, which is a matter of concern. On one hand, it is directionless (on policy issues) while on the other there are internal differences amongst ministries.
"People feel even though Modiji looks different from others…people will have their own assessments…. But (I) can't see much of a difference in the (two) Governments. Same partiality, corruption is there," he told reporters.
On the Government's policies over land acquisition bill and concepts of Smart Cities and Make in India, he cautioned the Prime Minister against his advisors in these matters.
"I don't know who are the advisors of Narendra Modi… who unnecessarily (have) brought into his head this type of a problem of Land Acquisition bill in which the basic norms could not be followed.
"Therefore, I think, that a clever person like Narendra Mod…I think he should beware of his advisors," he said.
Govindacharya advised the government to properly supplement the "Make in India" concept with "Make for India" and "Made by India" policies.
"Otherwise, it will just be a signboard that 'India on Sale', which won't do any good to people of Bharat," he said.
Govindacharya's comments came days after Arun
Shourie, a minister in the Atal Bihari Vajpayee government, hit out at the Modi Government saying its economic policy was "directionless" while the social climate was causing "great anxiety" among the minorities.