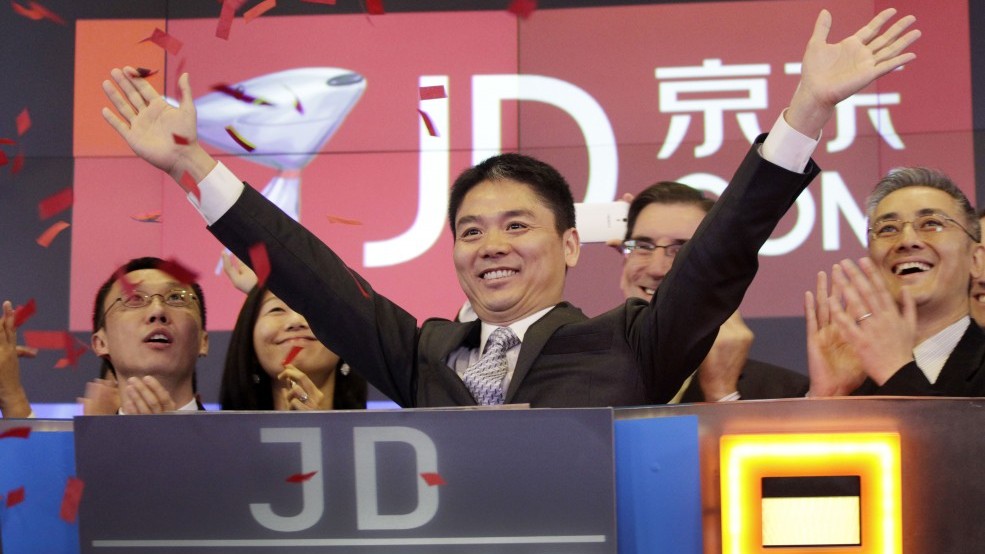 "JD has always been working as a bridge for domestic brands going global," said Liu Qiangdong, founder and CEO of China's largest online direct sales company, JD.com Inc, in an interview with China Daily.
In July, the company announced the launch of its US Mall, a new channel on the company's JD Worldwide cross-border platform to offer authentic imported US products for sale in domestic market.
Here are the excerpts:
1. Economic slowdown pressures have increased in China since the second half of 2014. During the first six months this year, GDP growth has fallen to 7 percent, while deflation pressures have risen in the manufacturing sector.
What are your business strategies in China as you readjust to the new Chinese economic policies and realities like the New Normal and the Internet Plus initiatives?
Internet Plus initiative is a powerful engine to drive the transformation of China's manufacturing sector.
Since 2014, JD.com has started to accelerate its globalization process and drawn up a detailed cross-border import and export business development plan.
In terms of import business, on April 15 this year, JD launched its cross-border e-commerce platform — JD Worldwide, aimed at feeding domestic consumers' demand for authentic imported products. Currently, five online malls presented on the platform, France, South Korea, Japan, Australia and America, have been launched so far, and more international brands and malls will be introduced by JD as the business step further.
JD has always been working as a bridge for domestic brands going global. On June 18, JD.com launched a Russian-language website to broaden its operations outside its core China market. India, Brazil and countries in South East Asia are JD's future development market.
Discreet consideration has been taken by JD as the "go global" business poses certain challenges. We spent one and a half year to establish our international business team and we'll continue to attempt new approaches for further development as long as it maintains the financial security of the company.
2. What are the challenges that you have faced and continue to face?
The biggest challenge for JD is continually practice its core-competitiveness within a market full of fierce competition.
The reason why we always emphasize self-owned business and self-owned logistics is that, by utilizing new technologies, we have been persisted in optimizing our services, reducing supply chain costs and improving supply chain efficiency.
Since 2013, JD started to invest in innovative operations, built new business models and recruit talent teams on a yearly basis.
3. How will JD take advantage of the Internet Plus Initiative to further promote the expansion in domestic market?
As we can see, Internet has penetrated into every aspects of people's daily life.
JD will continue to rely on its "Internet plus retail" mixed gene, to conduct traditional industries' transformation and upgrade under the Internet era, and create more value for consumers and the entire industry.
Meanwhile, JD will practice its innovation-driven strategy to push its innovative move step further into technologies and commercial modes aspects, including Internet finance, online to offline (O2O), rural e-commerce, and cross-border e-commerce.
4. How would you rate you company's performance in China during 2014? Over the next five years, what is your expectation for the company's development?
On May 22, 2014, JD announced its initial public offering on NASDAQ and became one of the top 10 world's largest Internet enterprises.
The gross merchandise volume (GMV) for the second quarter of 2015 was 114.5 billion yuan ($18.5 billion), an increase of 82 percent compared with the second quarter of last year. JD Mall GMV for the second quarter of 2015 increased by 92 percent year-over-year.
In the upcoming five years, JD will continually focus on e-commerce, and expand its businesses in the areas including cloud computing, big data, Internet finance, O2O, distribution chain moving down closer to consumers and go global.