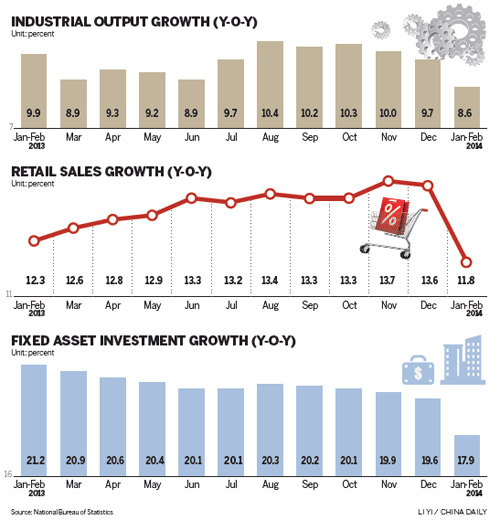 (Photo: China Daily)
BEIJING, March 14 (Xinhuanet) — The rapid deceleration of China's economic growth indicators in the year's first two months shocked the market, as industrial output, fixed-asset investment and retail sales all dropped to unusual lows.
Speculation has been widespread among experts that economic policy may be eased if the downward pressure continues to threaten the government's GDP target of about 7.5 percent this year.
The National Bureau of Statistics said Thursday that year-on-year industrial output growth rate slowed to 8.6 percent in January and February, down from 9.7 percent in December and 10 percent in November. It fell to its lowest level since May 2009.
Growth of overall fixed-asset investment, which is seen as the strongest driver of the world's second-largest economy, dropped to 17.7 percent during the first two months, compared with whole-year growth of 19.6 percent in 2013 and 18.2 percent in the fourth quarter. It reached a 13-year low for those same months.
In the meantime, total retail sales increased by 11.8 percent, an easing from 13.6 in December and 13.7 in November, and was the slowest pace for the period since 2004.
The above figures, combined with earlier released sluggish data of exports and manufacturing Purchasing Managers Index, indicate that the whole economy may even slip below 7.5 percent for the first quarter, according to economists.
Hong Kong's Hang Seng Index retreated 0.67 percent at the close after rising as much as 0.6 percent earlier in the day. The Shanghai Composite Index pared gains after the reports and it closed 1.1 percent higher.
Bank of America Merrill Lynch lowered its forecast of China's first-quarter GDP growth to 7.3 percent from 8 percent after the reports.
The Ministry of Finance announced on the same day that in January and February, the nation's total fiscal income advanced by 11.1 percent, slower than 14.3 percent in December and 15.9 percent in November.
Xu Hongcai, a senior economist at China Center for International Economic Exchanges, a government think tank, called the economic performance in the first two months "unusual but acceptable".
"It shows that the economy will face many uncertainties this year, and policymakers should leave room for unexpected situations," Xu said.
He expected growth momentum to be weaker in the first quarter, but a return should come after April, with stable GDP growth of about 7.6 percent maintained for the whole year.
"Big driving forces for economic growth will come from the market's endogenous dynamic, which will be further stimulated by restructure reforms," Xu said. "For example, small and micro enterprises are expected to receive more supports from cutting taxes. And financial reform will inject more private capital to help developing industrial economy."
Premier Li Keqiang expressed confidence at a news conference after the close of the National People's Congress meeting on Thursday that the nation will meet the flexible growth target of about 7.5 percent this year.
In order to achieve the target, Liu Ligang, chief economist in China at the ANZ Bank, said the central bank may need to cut its reserve requirement ratio and adjust monetary policy to a more proactive stance.
But Lu Zhengwei, a senior economist at Industrial Bank, predicted that the People's Bank of China is unlikely to cut the RRR until April, as the currency market liquidity is relatively sufficient.
Louis Kuijs, chief economist in China at Royal Bank of Scotland, said it won't be necessary for the government to pursue expansionary policies even if GDP growth threatened to fall to between 6.5 percent and 7 percent.
With a benign outlook supported by domestic growth drivers and improving global demand, the government can succeed in cool the rise in the credit-to-GDP ratio while protecting its bottom line on growth, he said. "Such a scenario would be welcomed by financial markets and good for financial asset prices."
But if the downward pressures persists, Kuijs expects the government to look for ways to support growth, and the best way could be via pure fiscal policy — "with central government spending rising, financed by bond issuance", as there is not much room for monetary stimulus.
(Source: China Daily)
Related:
Xinhua Insight: Slowdown tests China's growth and reform
BEIJING, March 13 (Xinhua) — China's January and February economic data is no cause for optimism.
Annualized growth of industrial value added output slowed to 8.6-percent for January and February compared to 9.9 percent in the same period in 2013, the national bureau of statistics (NBS) announced on Thursday. Fixed-asset investment during the period grew 17.9 percent, down from 21.2 percent from a year ago, the slowest growth since Dec. 2002. Retail sales of consumer goods grew 11.8 percent, also slower. The figure was 12.3 percent a year ago and 13.6 percent in December.  Full story
China's Jan.-Feb. industrial added value up 8.6 pct
BEIJING, March 13 (Xinhua) — China's industrial added value expanded 8.6 percent year on year in the first two months of 2014, official figures revealed on Thursday.
On a month-to-month basis, industrial added value in February edged up slightly by 0.61 percent from the previous month, the National Bureau of Statistics (NBS) said.  Full story