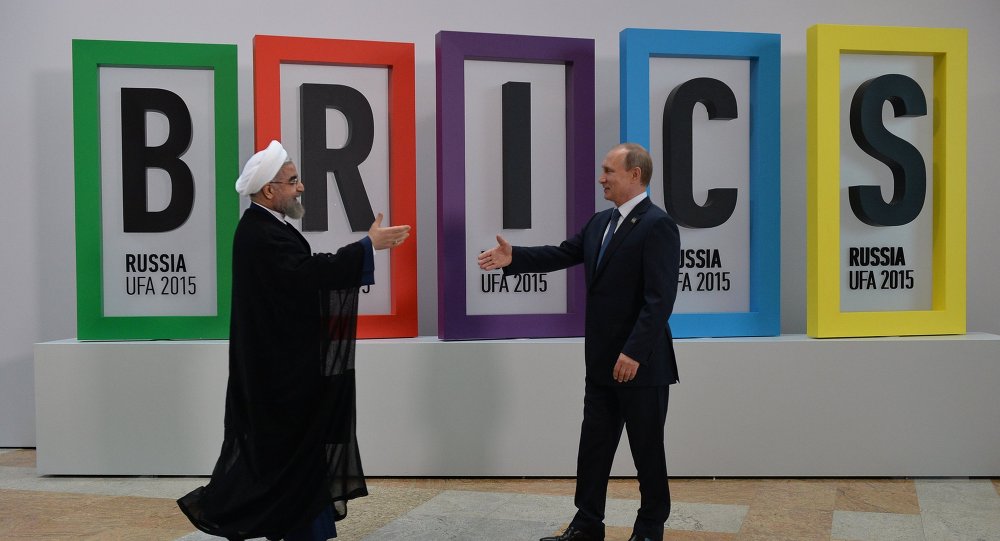 While Western experts are speculating that Moscow and Tehran will unleash fierce competition once anti-Iranian sanctions are lifted, Dr. Bijan Khajehpour, an expert from the strategic consulting firm Atieh International, believes that such an approach is too simplistic.
Dr. Khajehpour pointed to the fact that Russia has been involved in the negotiations between Iran and Western powers over the Iranian nuclear program since the very beginning. Furthermore, Moscow and Tehran carried out a series of high-level meetings before the deal was ultimately concluded.
"The simplistic view is that a resurgent Iran would compete with Russia as a major exporter of oil and gas, hence compelling Moscow to stand in the way of Iran developing its oil and gas potential. However, the reality is more complex and any projection of Tehran-Moscow ties will need to take into account the larger picture, especially the role that Iran can play in Moscow's emerging strategy to focus more intensely on Asia," the expert pointed out.
During his last meeting with Vladimir Putin at the joint summits of BRICS (Brazil, Russia, India, China and South Africa) and the Shanghai Cooperation Organization (SCO) in Ufa, Iran's President Hassan Rouhani emphasized: "I consider it my duty to thank Russia for the efforts it has made in resolving and negotiating the Iranian nuclear program, and for the personal efforts made by Mr. [Foreign Minister Sergey] Lavrov."
Actually, both countries had developed a "common understanding" regarding the regional issues by 2009, the expert underscored quoting Rouhani, then-member of Iran's Supreme National Security Council.
A lot has changed since then, but these geostrategic trends are stronger than ever, with Russia having become the target of Western sanctions, the Kremlin's pivot to the East, and strengthening economic and political ties with China and Iran.
"All three powers are faced with strategic challenges emanating from jihadist extremism, regional uncertainties and energy sector developments, especially the oil price fall since mid-2014," the expert underscored.
The expert emphasized that Moscow and Tehran have agreed to increase their bilateral trade up to $15 billion in the next few years from only $1.5 billion in 2013. While Russia's will be most likely focused on arms exports to Iran and building new nuclear power plants there, it could also become a significant exporter of petroleum-sector heavy equipment to Tehran.
However, "apart from existing and emerging potential in mutual trade and investment, the Tehran-Moscow relationship could be strengthened through triangle cooperation in Central Asia and the Middle East," Dr. Khajehpour.
Quoting Ali Akbar Velayati, head of Iran's Center for Strategic Research, the expert emphasized that security in Asia, the Middle East, North Africa, Central Asia and the Caucasus "will depend on close cooperation between Tehran, Moscow and Beijing."
That means Russia and Iran have much more in common than one could imagine.