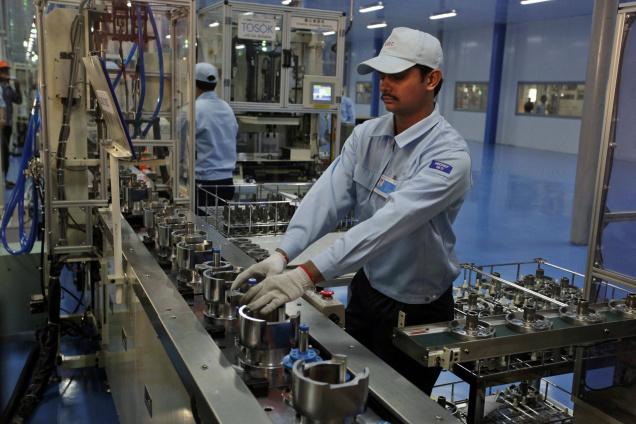 NEW DELHI: India's manufacturing growth slumped to a 25-month low in November due to a combination of lower demand, higher input costs and softening output, a private survey showed. The Nikkei Manufacturing Purchasing Managers' Index declined to 50.3 in November from 50.7 in October, data released on Tuesday showed.
The index fell for the fourth consecutive month in November. A reading above 50 on this survey-based index denotes expansion. The data comes a day after the central statistics office released the GDP data for the quarter to September showed a marked 9.3% increase in manufacturing during the period.
"November PMI data point to tepid manufacturing growth across India, with gloomy domestic demand resulting in weakest expansion in production in 25 months," said Pollyanna De Lima, economist at Markit, the agency that compiles the index. The manufacturing PMI and annual GDP numbers are not strictly comparable. The PMI is based on survey responses and measures sentiment month-on-month, while GDP takes into account actual quantitative increase in output and signifies expansion compared to a year ago.
The latest PMI data shows slower increases in incoming new business and output, with subdued demand growth leading firms to keep workforce numbers broadly unchanged. Sub-sector data highlighted consumer goods as the best performing category, while operating conditions at intermediate goods companies deteriorated for the first time since December 2013.
Indian manufacturers indicated that new business inflows grew in November, marking a 25-month sequence of expansion. However, the rate of growth was the weakest over this period. Mirroring the trend for new orders, production increased at the softest pace in the past 25 months. New export orders increased at consumer and intermediate goods firms, while a contraction was seen in the capital goods category. The report said that stocks of purchases declined for the first time in one-and-a-half years, which can be associated with falling quantities of inputs bought.
Holdings of finished goods were depleted at a marked rate that was the second-fastest in three years The slowdown is accompanied by a stagnant labour market in the sector, De Lima said.