New Delhi: India's merchandise exports contracted at their slowest pace in 18 months in May as non-petroleum exports finally turned positive, led by exports of engineering goods and gems and jewellery.
Data released by the commerce ministry showed exports contracted 0.79% in May while imports slipped 13.16%, leaving a trade deficit of $6.27 billion.
"The decline in exports for India has slowed considerably as the above figures indicate. The growth in exports have fallen for USA (6.15%), European Union (1.42%), Japan (0.75%) but China exhibited positive growth (11.4%) for March 2016 over the corresponding period previous year as per WTO (World Trade Organization) statistics," the statement said.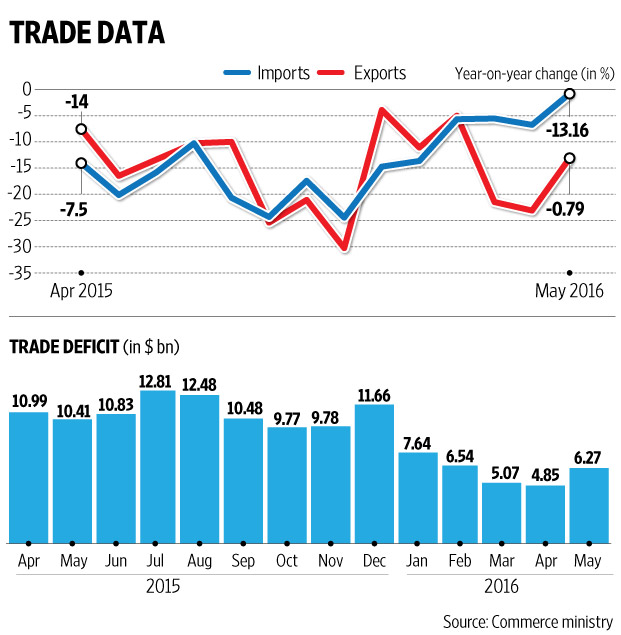 Commerce minister Nirmala Sitharaman told the Hindustan Times on Tuesday that negative news about exports is going to stop soon and fall in outward shipments has bottomed out.
"The pickup in exports may be slow and not rapid on the back of new markets. (But) I am glad to say that it is no longer going to be 'Oh my god! What's happening to exports'," Sitharaman said.
China trade data also showed signs of stabilization in May with exports and imports contracting 4.1% and 0.4%, respectively.
During May, while non-petroleum exports grew 1.1%, petroleum exports contracted 15.5%.
Thirteen of the top 30 export items reported growth in May. Among the major items, export of gems and jewellery (24.34%), chemicals (10.94%) and engineering goods (2.2%) increased, while pharmaceuticals (-14.2%), ready-made garments (-5.3%) and petroleum products (-15.5%) declined.
Shipments of 15 of the 30 top import items grew in May. Among the major items, imports of coal (25%), electronic goods (8.5%), plastics (1.8%), transport equipment (18%) and pearls and stones (28%) increased, while imports of petroleum (-30.5%), chemicals (-3.2%), machinery (-3.3%), gold (-39%) and iron and steel (-28%) contracted.
Data separately released by the Reserve Bank of India (RBI) showed growth in services exports flat at $12.91 billion in April, as against $13.01 billion in April 2015.
Similarly, services imports were also steady at $7.18 billion in April, as against $7.32 billion a year ago. The services sector contributes about 55% to India's gross domestic product.
RBI data is provisional and undergoes revision when the balance of payments data is released on a quarterly basis.
Federation of Indian Export Organisations president S.C. Ralhan said that the decline in exports has largely been arrested and non-oil exports have turned positive after a long gap. "Exports are all set to take off from here onwards and we can look for double-digit growth from October onwards, which may pave the way for reaching $300 billion in exports in the current fiscal," he said.
However, the Confederation of Indian Industry (CII), an industry lobby, in a statement said it does not see any improvement in India's export performance as the uncertainty in the global economy continues to persist and there is no sign of global demand picking up. "In this challenging situation, India can no longer afford to delay domestic reforms aimed at improving export competitiveness, which would have a direct influence on its exports performance," said Sanjay Budhia, co-chairman, CII National Committee on International Trade and Exports.