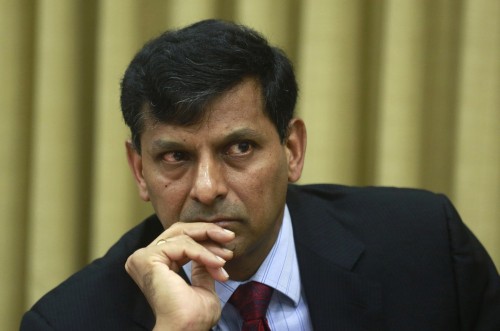 By Nirmala George | AP June 2 at 5:39 AM
NEW DELHI — India's central bank cut a key interest rate by a quarter percentage point Tuesday, the third such reduction this year in support of government efforts to boost growth.
The latest rate cut lowers the policy repo rate, at which commercial banks can borrow from the Reserve Bank of India, to 7.25 percent. The Reserve Bank of India cut interest rates by a quarter percentage point in January and March.
The cut comes after the Indian economy registered 7.5 percent growth in the January to March quarter compared with a year earlier. That made India the world's fastest growing major economy, overtaking China's 7 percent growth in the same quarter.
The central bank, however, left all other policy instruments such as the cash reserve requirement unchanged at 4 percent and Statutory Liquidity Ratio at 21.5 percent.
"With low domestic capacity utilization, still mixed indicators of recovery, and subdued investment and credit growth, there is a case for a cut in the policy rate," Reserve Bank of India Governor Raghuram Rajan said.
India's stubbornly high inflation has moderated in recent months to just below 5 percent, giving the central bank more leeway to lower borrowing costs.
Leaders of Indian industry were pressing for a cut in interest rates. They said high credit costs were a dampener for business and investment.
Rajan said if the impending monsoon season is weak as forecast it could give rise to inflationary pressures.
The Indian Meteorological Department on Tuesday forecast that this year's monsoon would be 88 percent of the normal.
India's 700 million farmers are heavily dependent on the four-month long monsoon that runs from June to September. Any shortfall can have a direct bearing on crop productivity, spurring food prices higher.
India's Chief Economic Advisor Arvind Subramanian allayed fears about inflation, and said the government would step in to tackle a rise in prices.
"These cuts are consistent with the trends in the economy, including strongly declining inflation, contained current account deficit and ongoing strong fiscal discipline," Subramanian told reporters.
Meanwhile, Rajan has asked banks to pass on the benefits of the interest rate cut to individual and corporate borrowers by cutting their own lending rates.
Industry bodies welcomed the rate cuts saying they would boost consumption and encourage corporate investment.
"Many stalled projects, which are waiting for availability of credit at cost effective rates, would find it viable to restart operations if the RBI continues with its rate easing," said Chandrajit Banerjee, director-general of the Confederation of Indian Industry.
The central bank's decision also comes a week after India's government led by Prime Minister Narendra Modi completed a year in office.
In last year's elections, Modi promised to revive the languishing economy, boost growth, attract foreign investment and create employment for the millions of young people entering the job market each year.
Modi has recently come under criticism from industry for heading a government that is slow in pushing through "big bang reforms." Opposition parties, however, accuse the government of enacting reforms that are anti-farmer and that favor big industry.
Copyright 2015 The Associated Press. All rights reserved. This material may not be published, broadcast, rewritten or redistributed.