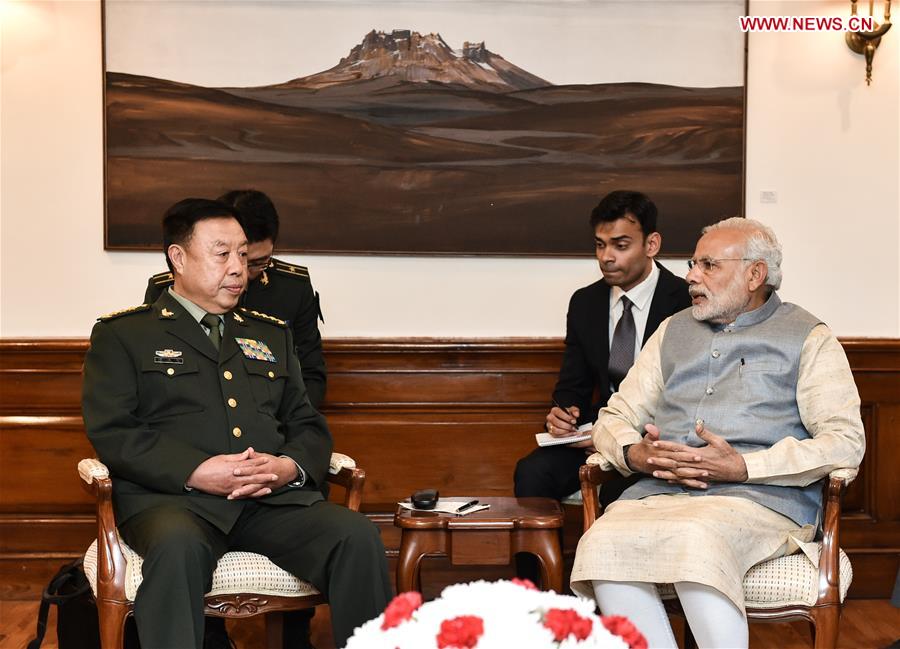 NEW DELHI, Nov. 17 (Xinhua) — Indian Prime Minister Narendra Modi Tuesday expressed his wish for deepening military exchanges with China to help develop bilateral ties and safeguard peace and stability in border area between the two neighbors.
At his meeting with visiting Vice Chairman of China's Central Military Commission Fan Changlong, Modi said he was satisfied with the implementation by the two militaries of the consensus reached by the leaders of India and China on maintaining border peace and stability.
He said defense and military authorities of the two countries should continuously increase strategic trust, increase personnel exchanges, develop new areas for development and make joint efforts to safeguard peace and stability of the border areas.
Fan said that over the past year, Chinese President Xi Jinping and Prime Minister Modi had met several times to draw up a blueprint and give direction for the development of bilateral relations.
Under the guidance of the leaders of the two countries, both sides were witnessing a dynamic momentum in bilateral exchange and effective cooperation within international and multilateral frameworks, he said.
Fan said the Chinese and Indian defense officials had agreed to uplift the level of cooperation between armed forces of the two countries, properly handle differences and take effective measures in maintaining peace and stability in their border areas.
Fan arrived here on Sunday for a three-day visit. During his stay, he held talks with Indian Defense Minister Manohar Parrikar and other Indian defense and military leaders.