Indian Prime Minister Narendra Modi arrived in New York today on his second visit to the US, during which he will address world leaders at a landmark UN sustainable development summit and interact with top CEOs in the Silicon Valley.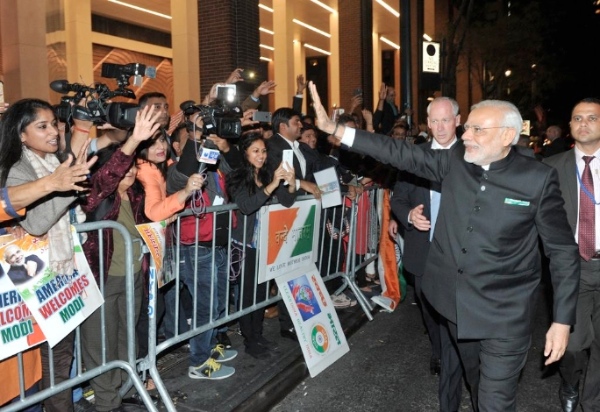 During his stay in the financial capital of the country for next two days, Modi will attend a roundtable on the financial sector, a key meet with foreign institutional investors. FIIs pulled out $3.3 billion from Indian shares last month.
The Indian Prime Minister is keen to promote the 'Make in India' campaign to invite investors to manufacture in India, Indian officials said.
India's total trade with the US currently stands at about $100 billion. However, China has replaced the US as India's largest trading partner.
Modi will return to New York on September 28 for a bilateral meeting with President Barack Obama as well as to attend a high-level peacekeeping summit at the United Nations.
On Friday, he will address global heads of state at the Sustainable Development Summit hosted by UN Secretary General Ban Ki-moon when the new and ambitious post-2015 development agenda will be adopted.
Modi's speech at the UNGA is expected to focus on giving a further push to early and urgent reforms of the Security Council and to urge world leaders to send an "unambiguous message" of "zero tolerance against terrorism".
India will also host the G-4 (Brazil, India, Japan and Germany) summit in New York on September 26, before Modi leaves for the West Coast for a packed two-day trip during when he will have meetings with Facebook CEO Mark Zuckerberg, Apple CEO Tim Cook and Google's new CEO Sundar Pichai.
US trade representative Michael Froman has last year urged India to dismantle its "wall of protectionism", strengthen its intellectual property rights (IPR) regime and focus on improving the business environment.
The US in October launched an out-of-cycle review of India's IPR regime. The US has often blamed India alleging it is a regular offender of global IPR laws.
The US Chamber of Commerce and 15 other US business associations have complained about barriers to free trade put in by the Indian government. The Chamber is the biggest lobbying group for US business.
Restrictive Indian trade policies have delayed American export and investment to India, a USITC report said last December.