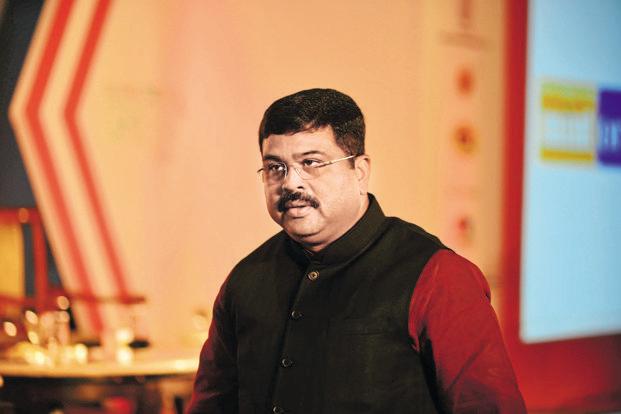 Oil minister Dharmendra Pradhan on Wednesday promised steps to encourage the use of imported liquified natural gas (LNG), especially in refinery-cum petrochemical complexes and for long-haul road and rail transport, to help double gas use to 240 million cubic metres a day in five years.
The idea is to replace naphtha, a liquid hydrocarbon used in petrochemical production, and furnace oil used for industrial heating with imported LNG and rely more on LNG and compressed natural gas (CNG) for transportation, instead of petrol and diesel.
The government is also planning to source more LNG from world markets at cheaper prices to supply gas-based power stations, many of which now run way below their full capacity for want of fuel.
"As of now, our gas uptake is about 6% of the primary energy basket against a global average of more than 24%…We can substitute liquid fuels with natural gas in several applications; this will help us in our objective of reducing our import dependency for crude oil by 10% from the current levels by 2022," Pradhan said at an event organized by industry chamber Confederation of Indian Industry.
Coal and crude oil account for the rest of the primary sources of energy. (Primary energy sources include crude oil, gas and coal, from which other forms of energy—petrol and diesel from crude oil and power from gas and coal—are produced.)
Currently, the power and fertilizer sectors consume about three-fifth of the 120 million cubic metres of gas available in the country, while city gas distribution and other commercial and industrial uses account for the rest.
"We are also evaluating the use of LNG in coastal shipping and railways. These LNG highways will be the highways of the future connecting major economic hubs with LNG-fuelled vehicles," Pradhan said.
The government also wants the southern and eastern parts of the country to be the new growth drivers of gas in the economy. Northern and western regions have been the primary gas consumers so far.
Of the $100 billion investments expected in the oil and gas industry over the next few years, $20 billion will come into two deep-water blocks in the Krishna Godavari basin operated by state-owned Oil and Natural Gas Corp. Ltd and a consortium of Reliance Industries Ltd, BP Plc and Niko Resources, Pradhan said.
ONGC and the Reliance consortium have already invited initial bids for hiring equipment and services to develop their blocks after the government announced a liberal pricing policy on 10 March for gas to be produced from difficult geological areas.
"Lower carbon emissions is not the only advantage of gas over coal and petroleum fuels. Switching to natural gas can dramatically reduce air pollution thanks to much lower nitrogen oxide and zero sulphur oxide emissions," said Jason Bordoff, founding director, Center on Global Energy Policy, Columbia University said at the same event.
Since imported gas will have the added cost of freight, the government has been pooling the price of domestic and imported gas to ensure that the clean fuel is available to all in the power and fertilizer industry at a uniform price.
Pradhan proposed that the same price pooling experiment could be adopted for other end uses as well as city gas distribution and production of steel and cement. "There is a school of thought to pool all domestic gas with imported LNG for having a transition to comprehensive, across the industry gas pooling mechanism," Pradhan added.