India's manufacturing sector continued to expand in November, albeit at a slower pace, according to the Nikkei India Manufacturing Purchasing Managers Index.
The PMI for November came in at 52.3, down from 54.4 in October. But while manufacturing has lost momentum, the demonetisation impact has not been very severe.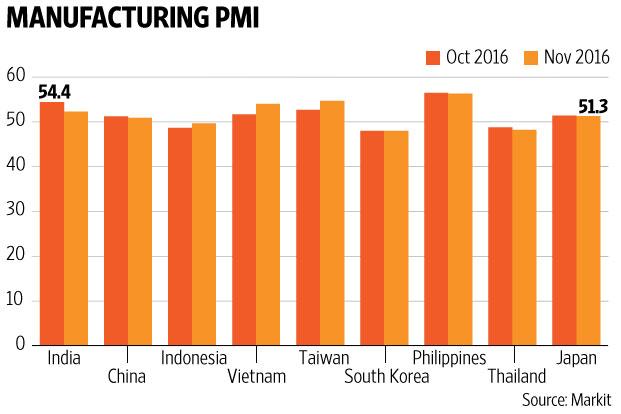 However, the survey said consumer goods producers recorded a sharp slowdown in growth. Order books rose at a moderate pace that was the slowest since July.
Pollyanna de Lima, economist at Markit, said, 'Of respite to firms, cost inflationary pressures softened, which in turn encouraged the vast majority of businesses to keep their selling prices unchanged. If this trend is sustained we will likely see further cuts to the benchmark rate.'
The chart shows that, even after the adverse impact of demonetisation, expansion in the Indian manufacturing sector in November has been more robust than in China as well as several other Asian economies.