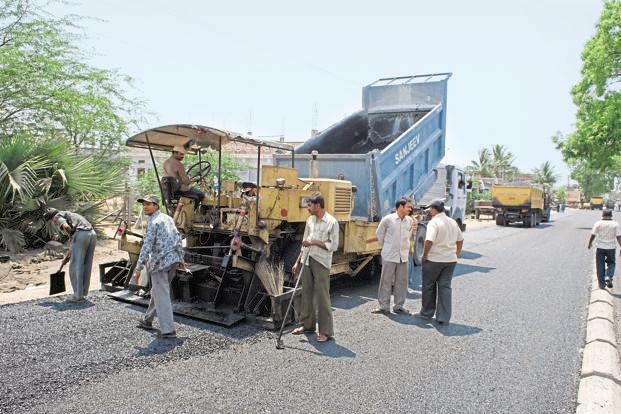 New Delhi: The government is proposing to develop 40 economic corridors spanning 21,000km of roads.
Not only will the project, entailing an investment of Rs3 trillion, improve freight movement by reducing distance and travel time, ease traffic bottlenecks and improve inter-city connectivity, it will also open up neglected regions of the country such as the north-east.
It is by far the most ambitious roads project since the previous National Democratic Alliance in 2001 embarked on the Golden Quadrilateral connecting Delhi, Mumbai, Chennai and Kolkata, entailing the development of 5,846km of four- and six-lane expressways costing Rs60,000 crore.
The government has identified 40 routes to be developed as economic corridors.
According to the initial plan, 35,000km of roads will be developed, out of which 21,000km will be economic corridors and the remaining 14,000km, feeder routes to facilitate movement of freight traffic. Of these 40 corridors, four are in north-east India.
The road ministry has hired consulting firm A.T. Kearney for the project, said a senior road ministry official, requesting anonymity. "We are waiting for the company to submit its final report, which is likely to come in a month," the official said. "The project will be taken up in phased manner and further short-listing would be done out of these 40 to prioritize the routes."
The project has been approved by road and transport minister Nitin Gadkari, the same person said. It still has to be approved by the Union cabinet.
The official cited above said economic corridors would address different concerns. For instance, the Agra-Gwalior-Shivpuri-Guna-Biaora-Dewas-Indore-Sendhwa-Dhule-Malegaon-Nashik-Mumbai corridor will reduce Agra-to-Mumbai road travel to 853km from around 1,200km at present, he said.
The economic corridors will open up India's hinterland to development, said Jaijeet Bhattacharya, partner, infrastructure and government services, KPMG. "With economic corridors there will be continuous supply chain support available for regular and agriculture goods and it will also help connect the rural economy. India is not short of land; what is not available is connected land," he said.
In terms of size, the economic corridor project will surpass the road ministry's proposed National Grid project entailing the creation of a grid of 27 horizontal and vertical national highway corridors every 250km.
Transport economist G. Raghuram of the Indian Institute of Management, Ahmedabad, said the economic corridors will have to be access-controlled (preventing free access from all sides) to ensure success because the country needs a backbone of controlled expressways.
The road ministry has been aggressively pursuing road projects, awarding 10,000km of contracts for the first time in 2015-16. It also completed the construction of 6,000km of roads, up 36% from a year earlier.