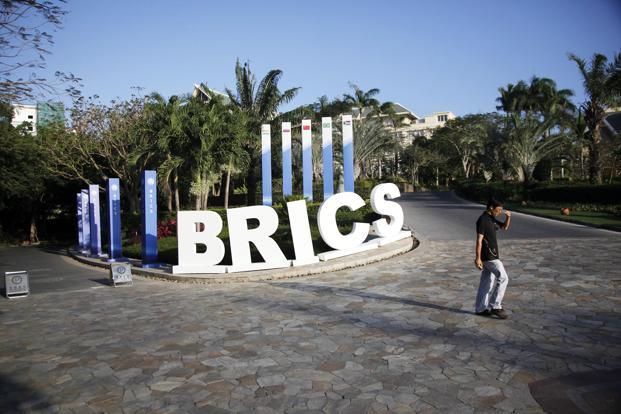 New Delhi: India is planning to invite leaders of the Bay of Bengal Initiative—a select group of Asian nations—for an outreach session with the leaders of Brazil, Russia, China and South Africa at the eighth Brics summit in October in Goa.
The proposal is in the planning stages at the moment but the idea seems to have been vetted at the highest levels of government, two people familiar with the development said.
Brics brings together Brazil, Russia, India, China and South Africa.
The Bay of Bengal Initiative for Multi-Sectoral Technical and Economic Cooperation (Bimstec) groups seven nations of South and South-East Asia—Bangladesh, Bhutan, India, Myanmar, Nepal, Sri Lanka and Thailand.
Formed in 1997, Bimstec aims to promote economic cooperation among South and South-East Asia countries.
"We think it will be a good platform to boost ties between the BRICS countries and BIMSTEC," said one of the people quoted above.
India is not the first nation to host an outreach session of this kind. Brazil invited the leaders of Argentina, Bolivia, Chile, Colombia, Equador, Guyana, Paraguay, Peru, Suriname, Uruguay and Venezuela to the sixth Brics summit at Forteleza in July 2014. And last year, Russia invited the leaders of the Shanghai Cooperation Organisation—a Eurasian political, economic and military organisation founded in 2001—for a session with Brics leaders.
Brics countries together represent 42% of the world's population and their combined economic output exceeds $16 trillion. This is the second time that India is hosting a Brics summit, after the fourth in New Delhi in March 2012.
India assumed the rotating chairmanship of Brics from Russia on 15 February and will hold the position till 31 December 2016.
In May, Indian external affairs minister Sushma Swaraj unveiled the official logo of the Brics summit—a lotus in the national colours of the five member-countries that also incorporates the traditional Indian welcome gesture of "Namaste" in the innermost whorls of the flower.
She said the summit will focus on building "responsive, inclusive and collective solutions for the grouping."
"We will adopt a five-pronged approach during our chairmanship. It will comprise institution building, implementation, integration, innovation, and continuity with consolidation," Swaraj said.
India's emphasis would be on institution-building and implementation of commitments made at previous summits, besides exploring synergies among the various existing and established framework mechanisms of Brics, she said.
Brics as a grouping has been pushing for greater economic growth among the member countries and reform of global financial institutions.
It has set up the New Development Bank with headquarters in Shanghai, with India's K.V. Kamath as its chief.
"We have planned a series of events, including the BRICS Under-17 football tournament, BRICS film festival, BRICS wellness forum, BRICS youth forum, young diplomats forum, BRICS trade fair, BRICS friendship cities conclave besides a think tank and academic forums," said Swaraj.
"This will give people a greater opportunity to enrich the BRICS process. It would also be an occasion for our BRICS partners to visit different cities and states of India," she added.