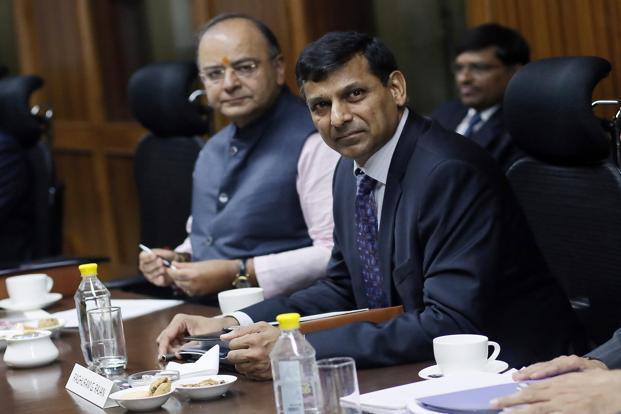 New Delhi: The government on Monday moved to give statutory backing to the monetary policy committee (MPC), paving the way for a resetting of the monetary policy framework that will shift the responsibility of maintaining inflation targets on a six-member panel, with the Reserve Bank of India (RBI) governor getting a casting vote in case of a tie.
At present, the RBI governor has the final say on monetary policy decisions.
According to the monetary policy framework, agreed by RBI and the government last year, the central bank will look to contain inflation within a band of 4% plus/minus 2 percentage points from next year. "The government has decided to bring the provisions of the amended RBI Act regarding constitution of MPC into force on 27 June 2016 so that statutory basis of MPC is made effective," the finance ministry said in a statement.
The panel will have three members from RBI, including the governor, who will be the chairperson, deputy governor of RBI and one officer of RBI. The other three members will be appointed by the centre based on the recommendations of a panel headed by the cabinet secretary and will be experts in the field of economics, banking, finance or monetary policy.
These experts will be appointed for four years and will not be reappointed. The panel will meet at least four times a year and will publicize its decisions after each meeting. "Amendments to RBI Act for MPC and connected rules notified. One step closer to its formation and operationalization," tweeted department of economic affairs secretary Shaktikanta Das.
The government notified the rules for the procedure for election of members of MPC and what will constitute a failure to meet inflation target under the MPC framework.
As per rules, no member of MPC should have any financial or other interest that prejudicially affects his functions as a member.
Also, it will be considered that the panel failed in achieving the inflation target if the lower or the upper range of the target is breached for three consecutive quarters. "Till now, the monetary policy has been decided by RBI, but this responsibility will soon shift to MPC. The rules have been notified but it does not talk about what will happen if MPC does not meet the inflation target. That has been left open ended," said Madan Sabnavis, chief economist, Care Ratings. "Retail inflation based on the Consumer Price Index should be around 5-5.5% by the end of the year, but it is dependent on a normal monsoon."
The idea of setting up an MPC was mooted by an RBI-appointed committee led by deputy governor Urjit Patel in February 2014 though that committee had recommended a five-member committee where three members would be from RBI and two external members would be appointed by the RBI governor and the deputy governor in-charge.
It was also suggested that the governor would have a casting vote in case of a tie.