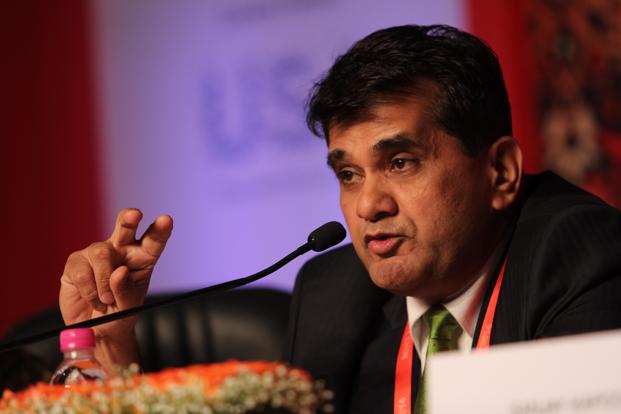 New Delhi: India is following rules related to intellectual property rights (IPR) and will unveil a new policy in two months, a government official said on Friday.
Indian companies had done well in following IPR laws despite complaints from some quarters, said Amitabh Kant, secretary in the department of industrial policy and promotion (DIPP).
Kant was speaking at the release of a report on the strategic rationale for deeper US-India economic ties where he noted that one of the irritants in the economic relationship between the two countries was India's perceived non-compliance with IPRs.
The report is authored by Ashley J. Tellis, senior associate at the Washington-based Carnegie Endowment for International Peace think tank, and C. Raja Mohan, a strategic affairs expert at the Observer Research Foundation think tank in New Delhi.
The report makes a case for deeper cooperation between India and the US to attain their strategic aims in the coming years. "India is important to the US effort to maintain its international primacy, while the United States is essential to India's attainment of its great power ambitions," it argues.
Kant's remarks come ahead of India and the US upgrading their strategic dialogue to a strategic and commercial dialogue later this year. He noted that major US companies such as Boeing Co. did not have any issues with India on IPR.
The complaints were restricted to pharmaceutical companies, he said, a reference to concerns expressed by multinational pharmaceutical firms, including Pfizer Inc., over the grant of patents to Indian companies to make copies of key drugs.
"We must be very clear that India can never be a great manufacturing nation, can never be a modern progressive nation if it does not learn to protect people's intellectual property. Whether we like it or not, we must believe in intellectual property rights," Kant said. At the same time, India needed to make clear to the US that "there is no political democracy across the world that can survive without providing medicine at the right price for its citizens," he said.
"In about two months time we will come out with one of the best IPR policies from across the world and, therefore, we need to tell the world that we are extremely confident about the world intellectual property regime," Kant said.
For a strategic partnership with the US, India needs to have a strong economic relationship, he said.
"You can't have strategic relations with America if you continue to grow at 4.5%. India must have the ambition to grow at 9-10% per annum."
The US "has consistently pursued a policy of securing hegemony yet China now threatens the economic and geopolitical underpinnings of US power," the report said. India, on its part, has sought great power status after 200 years of British colonial rule, it said.
"The task that the US faces in the coming century is the protection of its primacy through very strong partnerships in Asia" with countries such as India, said Tellis. "Fundamentally important to the US will be India's capacity to as a power," he said, adding that an economically strong India that has the capacity of protecting itself.
The report says that "through stronger bilateral economic ties, American resources could enhance India's productivity, expand its technological frontier and spur further economic liberalization. Meanwhile, the US would gain access to India's lower-cost exports, relatively cheap labour and vast domestic market, increasing America's international competitiveness."
The report advocates a "a step-by-step approach to deepening bilateral trade and investment" to make possible a free-trade agreement that would be "the most effective way to advance each country's specific geopolitical interests".
The report comes ahead of visits to the US by India's external affairs minister Sushma Swaraj and commerce minister Nirmala Sitharaman later this year. Prime Minister Narendra Modi is also due to travel to the US in September.