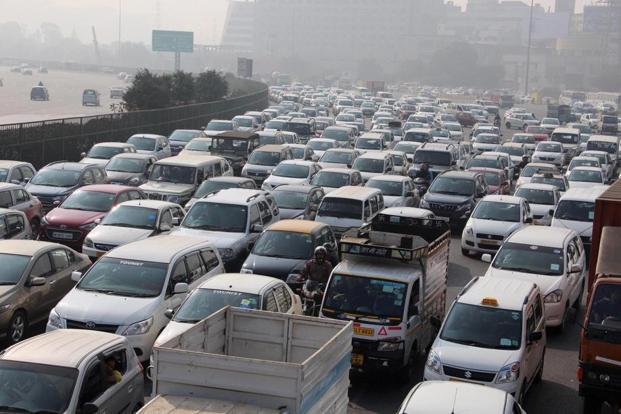 New Delhi: India will move up to the toughest emission standards of BS-VI from the current BS-IV by 2020, skipping an intermediate level, transport minister Nitin Gadkari said.
The decision—the immediate motivation appears to be the poor air quality in New Delhi—will make cars, sports utility vehicles (SUVs), trucks and buses more expensive. Auto companies and parts makers doubted whether they would be ready in time.
Auto firms, parts makers, and oil refiners will end up spending anything between Rs.70,000 crore and Rs.90,000 crore on the change, but an environmental activist said it would be well worth it. BS-VI standards prescribe emission norms that are "fuel-neutral", said Anumita Roychowdhury, executive director of Centre for Science and Environment (CSE).
The decision was jointly taken by Gadkari, heavy industries minister Anant Geete, environment minister Prakash Javadekar and oil minister Dharmendra Pradhan at an inter-ministerial meeting chaired by Gadkari on Wednesday.
The move has been in the air for some time and was first discussed last June.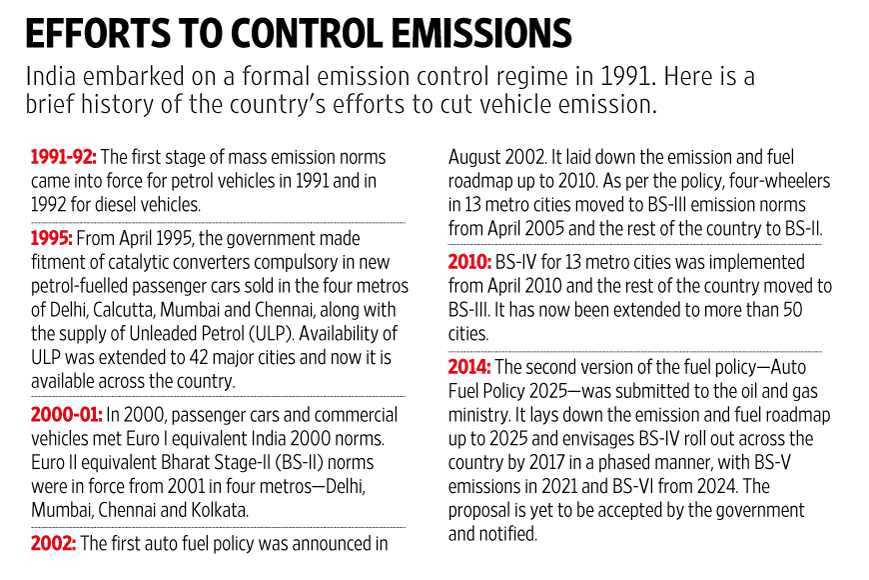 At the time, Bosch Ltd, the world's largest manufacturer of fuel injection systems and engine technologies, had warned the government that such a move could lead to safety and quality problems. Bosch wrote in a letter dated 5 June that it would take as much as four-and-a-half years of lead time for design, application and validation of new engine technologies to move from BS-IV to BS-V, and a similar time to graduate to BS-VI. Mint reported this on 16 June.
R.C. Bhargava, chairman of India's largest car maker Maruti Suzuki India Ltd, reiterated Bosch's stand.
"Only Bosch and Delphi do the required technological upgrades and even they have expressed their reservations," Bhargava said. "There will be safety issues if the entire exercise is not carried out in a proper manner."
Friedrich Boecking, regional president (diesel systems), Bosch, said the industry will need at least six years to graduate to BS-VI norms.
"You require four years to graduate from one stage to another. But, if you want to skip one stage, you may want to give at least six years to do that," Boecking said in a phone interview on Wednesday.
Moving to BS-VI directly will require significant technological upgrades and auto companies may have to invest Rs.40,000-60,000 crore to do so. The move will increase the price of cars in India substantially, Bhargava of Maruti said, diesel cars especially.
And customers will eventually pay the price, he added.
For years, India subsidized the price of diesel. As the price difference between diesel and petrol widened, many customers started opting for cars with diesel engines. Companies invested in diesel engine capacities. In 2012-13, diesel cars and SUVs accounted for 47% of all vehicles sold.
The government eventually stopped subsidizing diesel. In the year ended 31 March, only 37% of cars and SUVs sold ran on diesel.
That number is likely to see a further decline as concerns over vehicular pollution increase. The Supreme Court recently said no new diesel vehicle with an engine capacity of 2000cc or above could be registered in Delhi, where the air quality has become the worst in the world.
That has hurt auto companies that invested in new lines for diesel engines.
The change in deadline for BS-VI will hurt them even more.
The Auto Fuel Policy had recommended implementation of BS-VI norms by 2024. A draft notification by the ministry of road transport and highways (MoRTH) advanced the date to 1 April 2021.
There is a supply issue and it is unlikely that BS-VI fuel will be available across the country.
Currently, only 50 cities in India get BS-IV fuel, while the rest still use BS-III fuel. By switching to BS-VI, India will join the league of the US, Japan and the European Union, which follow Euro Stage VI emission norms. BS-VI is the Indian equivalent of Euro Stage VI.
Oil minister Dharmendra Pradhan said on Tuesday that state-run oil refiners will invest about Rs.28,750 crore for switching over to BS-VI auto fuels.
"Considering the environmental impact, rising pollution levels and health hazards due to vehicular pollution, the oil ministry took the view that the country should switch over directly from BS-IV to BS-VI fuel standards," the oil ministry said in a statement. Fuel specifications will be decided shortly, it added.
MoRTH is expected to issue a notification with all the details.
Roychowdhury of CSE called the government's move "a game changing decision".
"At BS-VI levels, the gap which is currently maintained between emissions from diesel and petrol, wherein diesel cars are allowed to emit more particulate matter and nitrogen oxide, narrows. At that level, emissions will become nearly fuel-neutral," said Roychowdhury, who is also the head of CSE's anti-pollution programme.
"It is better to miss BS-V as there is not much change between BS-IV and BS-V emissions norms in terms of particulate matter. But BS-VI will give us the big reduction in both particulate and nitrogen oxide emissions." she added.
The jump will make a huge impact and significantly bring down share of vehicular pollution in the overall air pollution of the country, said Sumit Sharma, a fellow at TERI, an environment think-tank.
According to a study released by CSE on Tuesday, air pollution claims at least 10,000-30,000 lives a year in Delhi. It is one of the top 10 killers in the world and the fifth leading cause of death in India, said the study titled Body Burden 2015: State of India's Health.
Motorcycle and scooter makers—they outnumber cars 6 to 1 (according to sales data)—have been spared, though. Most follow BS-III emission standards.