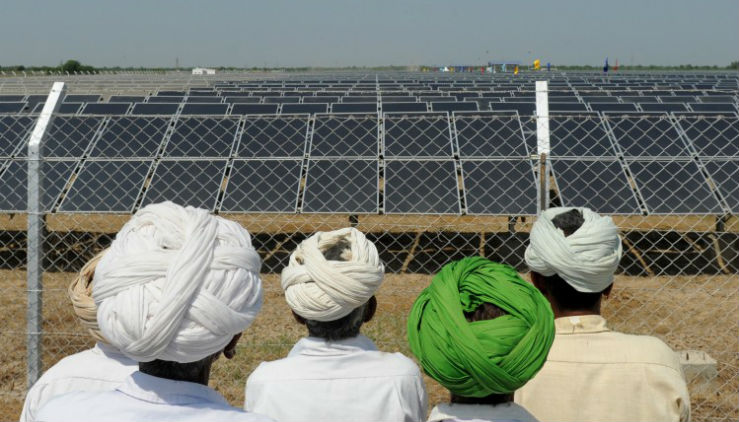 NEW DELHI: India will add 2,000 megawatts of solar power capacity between January and March, which is equal to the capacity added during the entire 2015.
The major projects expected to be completed in these three months are in Andhra Pradesh, Telangana, Tamil Nadu and Madhya Pradesh. These projections by solar consultancy Bridge to India indicate that the country will comfortably surpass its target of 2,000 MW of solar projects for 2015-16. Already around 1,100 MW have been added in the nine months to December 2015.
The target for 2016-17 is much stiffer at 12,000 MW. In the first three quarters up to December, India is expected to add another 2,839 MW of capacity. This means that over 9,000 MW will have to be added in the last quarter if the target is to be met. The majority of projects completed during the year will be in the five southern states. India wants to achieve 1 lakh MW of solar power by 2022.
Solar tariffs fell drastically in 2015, culminating in an all-time low of Rs 4.63 per unit offered by both Sun Edison and SB Energy while bidding for separate projects – of 500 MW and 350 MW respectively – for NTPC in Andhra Pradesh. There is disagreement over whether they will fall any further in 2016. "Maybe in the middle to long-term, a reduction might take place due to a fall in equipment pricing," said Vinay Rustagi, managing director, Bridge to India. "A 10-12 per cent drop in equipment prices is expected."
But Prashant Panda, president, solar business at ACME Solar, said a correction was likely. "I feel tariffs have bottomed out," he said. "I don't expect them to go down any further." In 2010, the price used to be Rs 17.91 per unit. Analysts are already wondering whether given the sliding prices, solar projects in India will remain attractive for foreign investors.
"India is an attractive market from a volume perspective, but when it comes to margins, I don't know," said Amit Sinha, partner, Bain and Co. "The return on equity (RoE) for developers has come down from the high teens or even more to the low teens. Unless developers make sufficient RoE, which needs to risk-adjusted and currency-adjusted, they will not be too excited about investing further in this sector. They could easily divert their investments to another project or another country. It is a tight balancing act – low tariffs are very good for consumers but sometimes developers lose out as a result."
It all depends on whether Sun Edison and SB Energy manage to successfully execute their projects at the price quoted. "There are macro concerns such as forex rates and full evacuation of the power produced," said Bikesh Ogra, president, solar business at Sterling and Wilson Pvt Ltd, a major EPC player. "There will also be micro concerns once the projects are implemented." Despite the recent hike in the ministry of new and renewal energy's outlay from Rs 600 crore to Rs 5,000 crore for giving subsidy to rooftop solar projects over the next five years, there was some apprehension over whether rooftop solar targets will be met. This target was the easily achievable 200 MW in 2015-16 (included in the overall target of 2,000 MW), but has been raised 24 times to 4,800 MW in 2016-17. "Rooftop is a puzzle right now," said Rustagi. "Whether the target is met will depend upon when and how the subsidy scheme is implemented. It is unlikely that even 500 MW will be added."