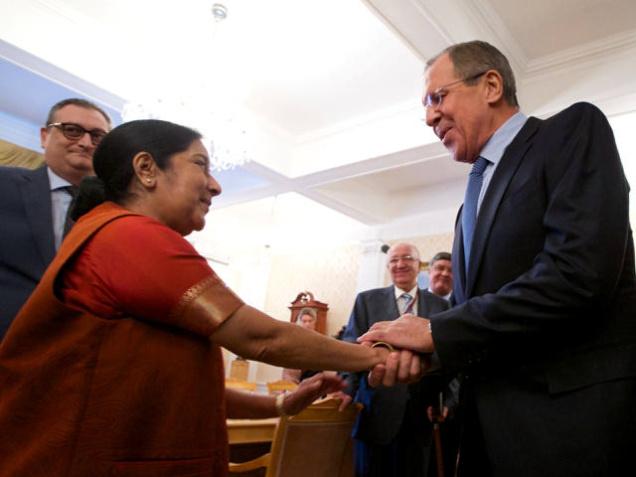 India on Tuesday asked BRICS partners to invest in its flagship programmes including 'Make in India' and 'Skill India' while making a strong pitch for removal of structural impediments for increasing trade engagement amongst members of the group.
External Affairs Minister Sushma Swaraj, while speaking at a meeting of BRICS (Brazil, Russia, India, China and South Africa) Ministers of Industries, said the government has laid down a clear roadmap for lowering corporate taxes and that there is huge opportunities in India for trade and investment.
"India's medium term growth prospects have significantly improved following several policy initiatives. The FDI limit in railways, defence and insurance sectors have been liberalised. Coal and mining sectors are witnessing a revival.
We are working on an ambitious deadline for implementing goods and services tax," she said.
"There is also a renewed thrust on public investment in infrastructure. All these create immense opportunities for companies from BRICS countries to work in India," she said.
Listing initiatives by the Narendra Modi government to boost growth, Ms. Swaraj said financial inclusion was one of the focus areas as part of which more than 170 million bank accounts have been opened and over 100 million debit cards with insurance cover has been issued.
"The manufacturing sector in India is witnessing a new dynamism Under the Make in India. Initiatives such as Skill India and Digital India are transforming the climate for doing business in India.
"The 100 smart cities programme is altering the paradigm of urbanisation in India and opening up unparallelled investment and business opportunities," said Ms. Swaraj.
The External Affairs Minister said there has been renewed interest in India by the global investors community and referred to a leading consultancy describing India as the most attractive investment destination in the world.
"The FDI inflows into India in 2014-15 have already reached a historic high of $44 billion. Forex reserves are at all time high of over $350 billion," she said.
Ms. Swaraj said there was a need for removal of structural impediments for increasing trade engagement amongst BRICS nations.
Ms. Swaraj arrived in Russia on Monday on a three-day visit to participate in the annual India-Russia Inter-Governmental Commission meeting in which the two countries will discuss key strategic issues including space, defence, energy and trade.