India will take action against the US under the World Trade Organization (WTO) rules in case of unilateral action from Washington, says the government.
The Office of US Trade Representative is expected to release its annual review report, termed Special 301, by midnight of Wednesday. It is expected to label India priority foreign country, meaning one of the world's worst intellectual property rights (IPR) regime, one deserving of trade sanctions.
"We might ask for a consultation under the WTO if the US takes any such unilateral action against us. Their allegations that our IPR regime is weak and non-compliant is baseless. India is compliant under the TRIPS Agreement of WTO," Commerce Secretary Rajeev Kher told Business Standard.
Although the Trade Related Aspects of Intellectual Property Rights (TRIPS) Agreement was signed in 1994, it took almost a decade for India to put in place a globally compliant patent law, taking effect from 2005. The TRIPS pact is a minimum threshold agreement, where member countries of the WTO take much less commitments than they can actually take, explained Kher.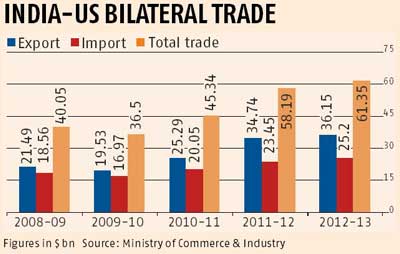 "So, technically we are not bound. TRIPS gives us several flexibilities such as defining patentability and taking care of developmental needs. All we have done is to define patentability, which they feel is in violation. Yet, they have never filed a case against us at the WTO," he said.
Special 301 is a trade and industry practices report maintained by the Office of the USTR. In the report, countries are designated as priority foreign country and priority country for IPR offenders.
However, action such as sanctions is unlikely, says a top official, on condition of anonymity, who is involved in talks with the US to neutralise the decision. The official notes the changes in global trade dynamics since India was previously given this status under then US President Bill Clinton; sanctions were not imposed. India has, however, been on the priority country list since 1974.
Bilateral trade in goods and services reached almost $95 billion in 2013 from $29 billion in 2004, an annual growth of 15 per cent a year.