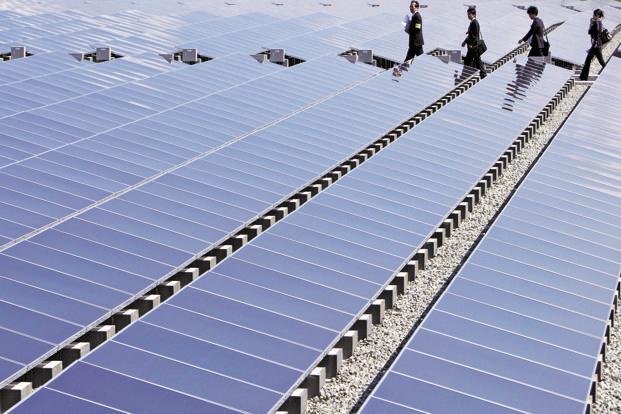 New Delhi: India's strategy of a foreign currency-denominated tariff plan for solar energy is aimed at providing solar power at a new low of Rs.4.75 per unit to the states.
This would work like this. Firms such as state-owned NTPC Ltd will call for bids from solar project developers for buying 15,000 megawatts (MW) on behalf of the ministry of new and renewable energy (MNRE) that will then be sold to the states. NTPC will run a reverse bidding process for procuring solar-powered electricity in foreign currency-denominated tariff to reduce risk. It will provide a purchase guarantee, making such projects bankable and help solar power eventually cost the same as that purchased from the grid (this is called grid parity).
"With the developers expected to quote bids in the region of Rs.3.50 per unit, NTPC will sell the power to the states at Rs.4.75 per unit, with the balance going to a hedge fund. This hedge fund will be used for payment to cover the foreign exchange risk," said an official aware of the strategy, requesting anonymity.
Mint reported on 16 September that solar power tariffs in India are set to hit a new low with Rs.5 per kWh tariff becoming the new norm.
This foreign currency denominated tariff plan may involve bundling with unallocated thermal power as a backstop arrangement, in the event of the rupee depreciating beyond a particular level. The move is aimed at attracting foreign investors to India's solar energy sector by reducing the foreign exchange risk involved.
Queries emailed to the spokespersons of NTPC and MNRE weren't immediately answered.
India may include yen along with dollar, euro in the basket of currencies it is considering for a foreign currency-denominated tariff plan for solar energy.
Both state-owned NTPC and Power Trading Corp. Ltd (PTC) plan to implement the scheme for foreign currency equivalent tariff on a pilot basis for 1,000MW each. PTC is partly owned by the government.
The plan to reduce solar power tariffs comes in the backdrop of state electricity boards (SEBs) increasingly showing reluctance to buy power on account of poor financial health. With a debt of Rs.3.04 trillion and losses of Rs.2.52 trillion, SEBs are on the brink of financial collapse.
The National Democratic Alliance government has pushed renewable energy to the top of its energy security agenda and is looking to provide green power at less than Rs.4.50 per unit. India is fit for solar power generation given that the country receives solar radiation of 5 to 7 (kWh) per sq. m for 300-330 days in a year.
India launched the Jawaharlal Nehru National Solar Mission in 2010 with the aim of adding 20,000MW of grid-connected solar power to the country's energy mix by 2022 in three phases. While India has a solar generation capacity of 2,900MW, the Bharatiya Janata Party-led government has substantially revised an earlier target of achieving 20,000MW capacity by 2022 to 100,000MW, unveiling the world's most ambitious solar power generation programme. This would require an investment of around Rs.6.5 trillion over five years.
In India, which is the biggest greenhouse gas emitter after the US and China, renewable energy currently accounts for only 13%, or 36,471 MW of India's total installed power capacity of 2,75,912MW.