Oil minister Dharmendra Pradhan is set to meet his counterpart in the new UK cabinet Greg Clark as well as British industry executives in September, pitching for investments in India's hydrocarbon sector as part of New Delhi's desire for closer trade and investment ties with the nation after its decision to leave the European Union.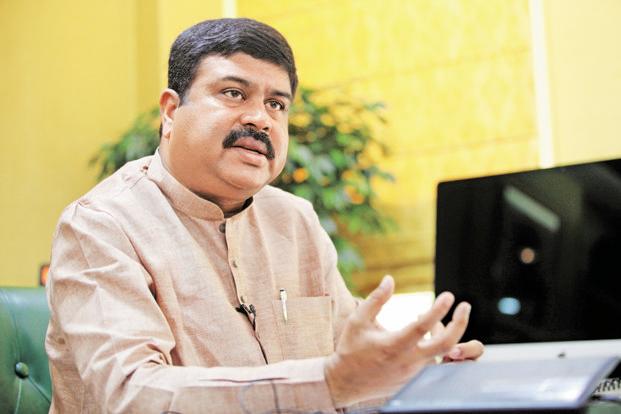 At the proposed meeting with the secretary of state for business, energy and industrial strategy, Pradhan will also explore areas of give and take in the energy sector that could later become part of a broader trade and investment agreement between the countries, said a person privy to the plan, who asked not to be named.
The UK has many oil and gas services firms, especially in Aberdeen in Scotland, considered the oil capital of Europe.
India has been scaling up its engagement with nations that have expertise in exploration and production of natural resources in addition to investing in hydrocarbon assets abroad to secure its energy supply both from domestic and overseas sources. India has set a target of reducing its import dependency in oil and gas by 10 percentage points to 67% by 2022. That seems an ambitious goal as domestic consumption has been growing, prompting the oil ministry to seek avenues to increase supplies. India consumed 183 million tonnes of various fuels derived from petroleum in 2015-16, 10% more than a year ago, as per official figures.
"Roadshows will be held in the UK for the small and marginal fields that are being auctioned now. As far as broader cooperation in energy and trade are concerned, one-to-one talks with the UK will be much easier compared to dealing with a multi-member trade bloc," said the person quoted above. On 8 July, India and UK agreed to negotiate a free trade agreement (FTA), while talks on a proposed India EU-FTA that began in 2007 remains inconclusive. India has a bilateral investment protection agreement with the UK signed in 1994 which does not cover trade.
"The UK has a large variety of large, mid-sized and small and independent operators who have the skills to exploit the hydrocarbon opportunities in India. With the Indian oil and gas sector opening up under the new Hydrocarbon Exploration and Licensing Policy and starting with the Discovered Small Fields auction round, the possibilities are strong and are not affected by Brexit (the decision the exit the EU, by a 23 June referendum). If at all, India comes closer to parity with Europe from the UK standpoint and stands to benefit from the developments," said Anish De, partner and head of oil & gas, KPMG in India.
Cairn India Ltd., a subsidiary of UK-based Vedanta Resources Plc. and BP Exploration Alpha Ltd, an arm of BP already have a significant presence in India. Cairn India which operates the Barmer oilfield in Rajasthan accounts for more than a quarter of the country's domestic oil output. In 2016-17, it produced an average 196,955 barrels of oil per day (bopd) as per company data. BP is a 30% stakeholder in Reliance Industries Ltd's 21 gas blocks, including in the KG- DWN-98/3, known as KG D6. The Reliance-BP consortium has issued tenders to hire oilfield service providers for making fresh investments in the Krishna Godavari basin after the government on March 10 allowed investors to sell gas from difficult geological areas—deep water, ultra-deep water, high-pressure and high-tension areas — at a price that is linked to that of alternative fuels.
The UK is India's 12th largest trading partner and bilateral trade between the two sides contracted by 2.2% to $14 billion in 2015-16. The country is the third largest investor in India with $23 billion in investment between April 2000 and March 2016.
Cairn India raising output to half of the country's domestic production as planned by chairman Anil Agarwal, RIL-BP boosting production from the KG basin and ONGC developing two of its fields in the KG basin are considered crucial for the country to achieve its goal of reducing import dependence on oil and gas.
Prime Minister Narendra Modi and the former British Prime Minister David Cameron had last November signed an agreement to strengthen energy co-operation mainly in the area of renewable energy and climate change.