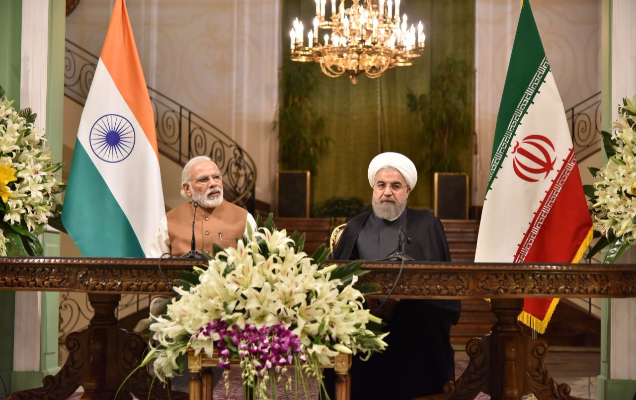 New Delhi: India, Iran and Afghanistan on Monday signed a trilateral connectivity pact that will potentially open up an alternative route to world markets for Afghanistan. For India and Iran, it offers a strategic advantage as Pakistan has restricted Afghanistan's trade with India by not fulfilling the terms of a previous land route agreement.
The three-nation transport and transit corridor pact was signed in the presence of visiting Prime Minister Narendra Modi, his Iranian host, President Hassan Rouhani, and Afghan President Ashraf Ghani, who reached Tehran on Monday to be present at the signing ceremony.
Modi is on a two-day bilateral visit to Iran, the first by an Indian prime minister to that country in 15 years.
Earlier in the day, India and Iran signed a pact to develop the Chabahar port situated on the Gulf of Oman. Chabahar port is less than 100km from Pakistan's Chinese-constructed port of Gwadar, built as part of a plan to open up an energy and trade corridor from the Gulf to western China.
India also signed a pact with Iran to "provide requisite services for the construction of Chabahar-Zahedan railway line, which forms part of transit and transportation corridor in trilateral agreement between India, Iran and Afghanistan".
The plan is simple: to connect Chabahar by rail to Zahedan in Iran to Zaranj in Afghanistan and there onwards into Delaram which is also in Afghanistan. If Afghan goods come up to Zahedan, they can be transported by a 1,380-km rail link to Chabahar and shipped to India.
"We wanted to prove that geography is not our destiny. With our will, we can change geography," Ghani said after the pact was signed.
Underlining the strategic importance of the trilateral pact, Arvind Virmani, a former economic adviser to the Indian government, said on Twitter: "Landlocked country breaks out of hostage situation created by a militarized neighbour for its strategic purposes."
At present, Afghanistan uses Pakistan's Karachi port for its exports.
Media reports in recent months have spoken of rising tensions between Afghanistan and Pakistan given the spike in attacks by a resurgent insurgent Taliban, believed to be controlled by Pakistan. As a result, Afghan exports through Karachi had declined by about 40%, according to media reports.
In his comments, Modi described the trilateral pact as having the potential to "alter the course of history" of the region.
"It is a new foundation of convergence between our three nations. The corridor would spur unhindered flow of commerce throughout the region. Inflow of capital and technology could lead to new industrial infrastructure in Chabahar. This would include gas-based fertilizer plants, petrochemicals, pharmaceuticals and IT," Modi said.
In an oblique reference to tensions between Pakistan and Afghanistan, Modi noted that the location of Chabahar at the mouth of Gulf of Oman is of great strategic significance.
"Afghanistan will get an assured, effective and a more friendly route to trade with the rest of the world," Modi said.
The "watch-words" of international relations were "trust not suspicion; cooperation not dominance; inclusivity not exclusion", he said, adding that "motives of economic growth and empowerment would drive it. It will build our security without making others vulnerable. It would break barriers among our nations".
When linked to the International North-South Transport Corridor (INSTC), the Chabahar-Zahedan-Zaranj corridor would connect South Asia on one hand and Europe on the other, Modi said. INSTC is an ambitious multimodal transportation established in 2000 by Iran, Russia and India to promote transportation cooperation. It is to connect the India Ocean and Persian Gulf to the Caspian Sea through Iran and then onwards to St. Petersburg and northern Europe through Russia.
In his comments, Rouhani said that Tehran, Delhi and Kabul had underscored the message that "the path of progress goes through cooperation and the utilisation of regional opportunities" by signing the pact.
"Countries of this region need to utilize opportunities provided… to expand regional cooperation," Rouhani said.
In a bid to allay any potential Pakistani fears or suspicions that the pact was aimed against it, Rouhani said that third countries could join the trilateral arrangement in the future. The pact was "not against any other country… it is beneficial to the entire region" and will contribute to peace and stability, he said.
Modi described the Chabahar pact as a "milestone".
India and Iran had agreed to look at developing the port in south-eastern Iran in 2003 during a visit to India by then Iranian president Mohammad Khatami, but the venture has not made much progress.
"The bilateral agreement to develop the Chabahar port and related infrastructure, and availability of about $500 million from India for this purpose, is an important milestone," Modi said.
A note put out by the Indian foreign ministry on its website said, "The (Chabahar) contract envisages development and operation for 10 years of two terminals and five berths with cargo handling (multi-purpose and general) capacities".
A preliminary pact between the EXIM Bank of India and Iran's Ports and Maritime Organization on current specific terms for the Chabahar port project was also signed, according to the ministry, which is "intended for the purpose of extending $150 million credit for Chabahar port".
Another preliminary pact between India's EXIM Bank and the Central Bank of Iran to extend credit of up to Rs.3,000 crore for the import of steel rails and implementation of Chabahar port was also signed.
A fourth accord between India's IRCON (the specialized constructions organization associated with the ministry of railways) and the Construction, Development of Transport and Infrastructure Co. of Iran was also signed for the rail link connecting Chabahar and Zahedan.
"Services to be provided by IRCON include all superstructure work and financing the project (around $1.6 billion)," the note said.