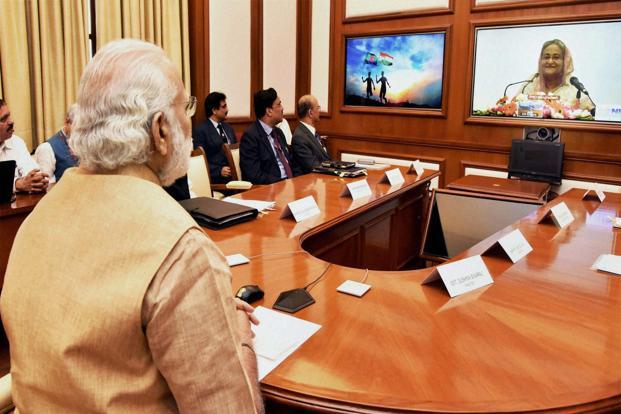 New Delhi: With the push of a couple of buttons, India and Bangladesh on Wednesday further cemented their bilateral ties with the former exporting 100 megawatts (MW) of power from Tripura and the latter exporting 10 gbps (gigabits per second) of Internet bandwidth.
Prime Minister Narendra Modi in New Delhi and his Bangladeshi counterpart Sheikh Hasina in Dhaka were joined by Tripura chief minister Manik Sarkar in Agartala via video link for the ceremony.
"In this age of interdependence, the two countries would further strengthen its ties and it is a significant day that both are promoting the ways of development," Modi said.
India currently supplies 500MW of power to Bangladesh through West Bengal. With the additional export of 100MW starting Wednesday, this figure now goes up to 600MW.
The import of Internet bandwidth will help India strengthen telecom services and connectivity in the underdeveloped and sparsely connected north-eastern region.
The agreements on trade in electricity and Internet bandwidth were signed in Dhaka during Modi's visit in June 2015.
Under the connectivity project, an international gateway for broadband connectivity will be set up at Agartala through which connectivity will be provided via Bangladesh under an agreement between state-run Bharat Sanchar Nigam Ltd (BSNL) and Bangladesh Submarine Cable Co. Ltd (BSCCL), using the network of Bangladesh Telecommunications Co. Ltd.
According to Bangladeshi news website BDnews24, the Agartala gateway will be connected to a cable station in Cox's Bazaar in Bangladesh.
The cost of the project is Rs.19.1 crore and BSNL will bear an annual operational expenditure of $1.2 million (Rs.8 crore).
The link will deliver a bandwidth of 10 gbps, and can be extended up to 40 gbps.
Prior to this link being forged, telecom connectivity to India's north-east was provided from Chennai via Kolkata.
India-Bangladesh ties have shown increasing warmth since Sheikh Hasina came to office in 2009, and especially so after they resolved a maritime boundary dispute in 2014 and settled a land boundary dispute last year.