India and China on Sunday sought to reboot ties, with Prime Minister Narendra Modi advocating in his talks with Chinese President Xi Jinping that New Delhi and Beijing must be sensitive to each other's "strategic concerns" — a theme which included a reference to terrorism radiating from the controversial China Pakistan Economic Corridor (CPEC).
In response to a question whether the Prime Minister raised concerns regarding terrorism emerging from the area covered by CPEC — the 46-billion dollar connectivity project jointly undertaken by China and Pakistan — Foreign Ministry spokesperson Vikas Swarup said: "That issue was also raised."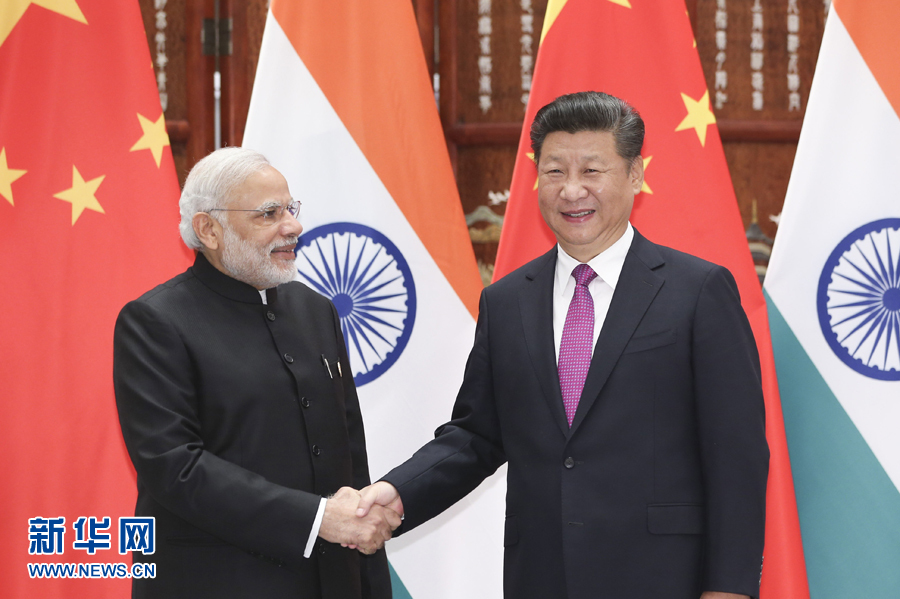 Talks 'highly significant'
Analysts say that the Prime Minister's 35-minute talks with President Xi were "highly significant" as the under-appreciation of each others' core "strategic interests" was identified as the main obstacle, preventing India-China ties to reach the next level.
The spokesperson did not specifically affirm whether Mr. Modi raised India's membership to the Nuclear Suppliers Group (NSG), to which China has objected, with Mr. Xi: "I am not going into specifics, but if you read between the lines, you can pretty well understand that when we talk of strategic interests and aspirations, it is not that as if China is unaware of our strategic concerns and aspirations or we are unaware of their concerns. So this is something that both sides are very well aware."
"Direction to the direction of relations"
Mr. Swarup added: "Meeting at the summit level is meant to provide ideas and direction to the overall direction of relations."
Highly places sources had earlier told The Hindu that all contentious issues, including China's reservations in sanctioning Jaish-e-Mohammad chief Masood Azhar and the CPEC, are expected to be discussed "openly and frankly" at the newly formed dialogue mechanism between the Foreign Secretary and the Vice-Foreign Minister from China.
The forum was established during last month's visit of Chinese Foreign Minister Wang Yi to India. A special mechanism has also been established that will focus only on China's objections to India's entry to the NSG, during Mr. Wang's visit.
NSG as "export control" mechanism
The Indian side has already conveyed to their Chinese interlocutors that New Delhi views the NSG as an "export control" mechanism, and not a "non-proliferation" initiative. Consequently, India's entry to NSG cannot be tied with New Delhi's signature to the Nuclear Non-Proliferation Treaty (NPT) — the criteria set by Beijing — whose role is essentially to prevent the spread of atomic weapons.
Mr. Modi, nevertheless, stressed during talks with Mr. Xi that both countries must take "specific actions" in order to curb "negative perceptions" of each other.
"As a matter of principle, both countries would have to be sensitive to each other's strategic interests. In order to promote positive convergences, we will also need to prevent negative perceptions. For this the specific actions by both countries would play the major role," the spokesman paraphrased the Prime Minister as saying.
Mr. Modi also said that in order "to ensure durable bilateral ties, and steady development, it is of paramount importance that we respect each other's aspirations, concerns and strategic interests," the spokesperson observed.
Tacit reference to Pakistan
Despite the focus on bilateralism, the shadow of Pakistan hung over the talks. Without naming Pakistan —China's "all weather ally" — the Prime Minister said: "Our response to terrorism must not be motivated by political considerations."
The spokesman pointed out that speaking later at meeting of the Brazil-Russia-India-China-South Africa (BRICS) grouping on the sidelines of the G-20 summit, the Prime Minister observed that terror groups "in South Asia and for that matter anywhere do not own banks and factories". "Clearly someone funds and arms them and the BRICS must intensify its joint efforts not only to fight terror, but to coordinate actions to isolate those who are supporters and sponsors of terror." The "supply chains [of terrorism] and reach are global, [and] abuse of social media to promote radical ideology is a growing dimension of this threat."
Focusing on counter-terrorism, the BRICS countries have welcomed the forthcoming talks of the National Security Advisers, as well as the meeting of the Joint Working Group on counterterrorism of the five countries.