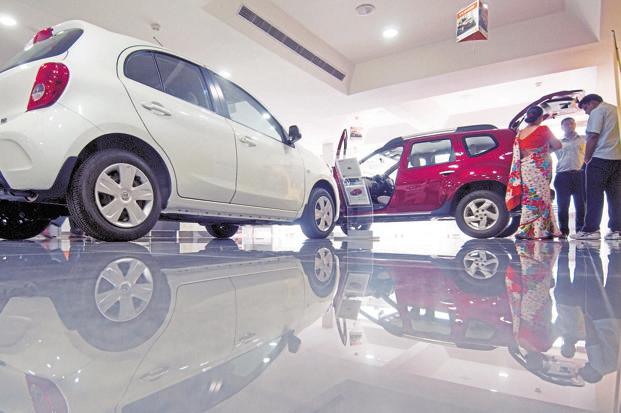 New Delhi: Sales of passenger cars in India grew for the first time in three months in April, with the automobile industry lobby suggesting that the growth was driven solely by urban demand.
Car sales in April rose 1.87% over the year-ago period to 162,566 units, the Society of Indian Automobile Manufacturers (Siam) said.
In yet another sign of a rebound in economic activities, sales across other vehicle categories—commercial vehicles, three-wheelers, motorcycles and scooters—grew in healthy double digits.
Sales of all passenger vehicles, which includes cars, utility vehicles and vans, grew 11.04% to 242,060 units.
India's penchant for big and bulky utility vehicles continued in April. Sales of utility vehicles grew 42.83%, the fastest since November 2012.
Utility vehicles, which include sports utility vehicles (SUVs), multi-utility vehicles and vans, rose to 62,170 units over the year-ago period. The previous best was in November 2012 when utility vehicle sales had grown 70%.
In the year ended 31 March, sales of utility vehicles increased 6.25% to a record 586,000. Since 2010-11, sales in this segment have grown at a compound annual growth rate of 13%.
Utility vehicles include diesel-fuelled SUVs, with engine capacity of 2,000cc and more, whose sales have been banned by the apex court in the National Capital Region (NCR) centered on Delhi since 16 December. The move was aimed at improving the air quality in the national capital, which the World Health Organization in 2014 ranked the world's most polluted city.
On Monday, the apex court continued the ban for an indefinite period. "The point is why should a vehicle that meets all government norms be banned. We are not going to the court saying our industry is not doing well so please help us. We are going to the court against the amicus curaie who has asked for extending the ban to all diesel vehicles," said Vishnu Mathur, director general of Siam.
According to Kumar Kandaswami, senior director, Deloitte Touche Tohmatsu India Pvt. Ltd, the current period seems to be one of strong growth.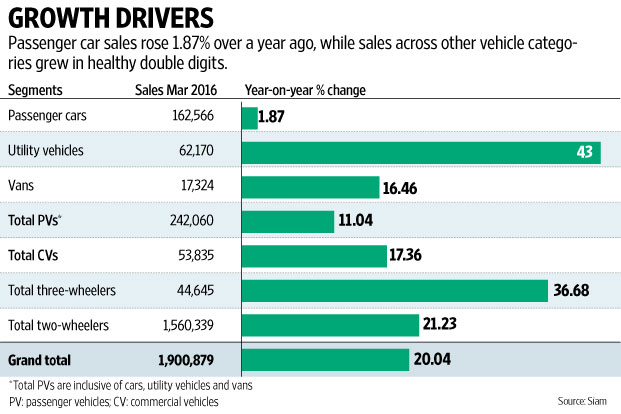 "Clearly, there will be months when the growth would be low or negative. At the end of the year the passenger car market should grow at 7-8% or more," Kandaswami said.
He added that the spread of concern about emissions to the other cities and the push towards changes in powertrains will only create opportunities.
"The diesel ban in Delhi will create opportunities for used cars, even if for a relatively short period. The penetration of ride sharing, now extending to cargo carriers, will require manufacturers to pay attention to that segment," he said.
Siam attributed the growth in sales of utility vehicles to launches of small sports utility vehicles such as Maruti Suzuki Vitara Brezza and Mahindra & Mahindra Ltd's KUV 100, TUV 300, and NuvoSport.
Sales of two-wheelers, too, grew at their fastest pace in 18 months. Siam said that urban demand continues to drive sales growth even as there is an uptick in consumer sentiment in rural areas.
Sales of two-wheelers grew 21.23% in April to 1.56 million units, according to data provided by Siam. The previous best was seen in September 2014 when the industry grew at 22.73%. Sales of motorcycles grew 16.24% to 1.02 million, while those of scooters grew 35.86%.
Siam added a note of caution. "Two-wheeler sales are up due to demand during the marriage season and a low base," Mathur said. "We will have to wait and see. Rural sentiment seems to have started improving. They are still not driving growth. Usually, marriage season brings in a very large uptick in sales. Worries are not over yet," Mathur added. "In none of the categories have we reached the peak levels we saw during the 2011-12 period."
During 2009-10 and 2011-12, the Indian automobile industry expanded at an average of 20% every year.