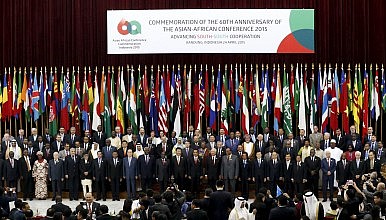 Sixty years ago, delegates from 29 Asian and African countries gathered in Bandung, Indonesia for a conference to decide their own futures and destinies, free of the yoke of colonialism. The aspiration of building an "intermediate camp" of national independence and neutralism to counter the "imperialist camp" of the United States and the "socialist camp" of the Soviet Union was also very much part of the motive behind the conference.
However, the tone for that 1955 conference on Afro-Asian solidarity was actually set by then Indian Prime Minister Jawaharlal Nehru almost a decade earlier. Nehru's enthusiasm for pan-Asian cooperation found its expression in the Asian Relations Conference, convened in New Delhi in March and April 1947. This earlier conference had special significance as it created an Asian Relations Organization in New Delhi and made Nehru its president.
Nehru also recognized at that 1947 conference that Asia had a certain responsibility for the people of Africa as well. Afro-Asian cooperation was needed for the creation of a peaceful international order. Nehru's belief in Afro-Asian cooperation later fed into the Bandung Conference of 1955. Nehru's India was at the forefront of the conference, while China was a newly liberated country yet to be recognized by most of the countries of the world. It was Nehru who took the initiative to introduce India's neighbor to the world, inviting Chinese Premier Zhou Enlai to the conference, despite resistance from other founding members of the conference.
Sir John Kotelawala, president of Ceylon, as Sri Lanka was then known, decided he would not follow Zhou's speech in the subsequent discussions. This was obviously humiliating for China and for Zhou Enlai, who was attending his first international conference. Still, Nehru tried his best to defend Zhou in front of the world. With Nehru's help, Zhou remained calm and showed no rancor towards Kotelawala. That restraint made a deep impression on the other members of the conference. Zhou's courtesy, moderation, and reasonableness throughout the conference earned him a moniker: the "Bandung Gentleman."
Cut to the present, and it was China who took the lead in the conference held at Jakarta and Bandung late last month, with President Xi Jinping in attendance; Indian Prime Minister Narendra Modi was absent. The Indian government's lethargic response towards the conference was evident, as neither External Affairs Minister Sushma Swaraj nor Minister of State (External Affairs) V K Singh acknowledged Nehru in their speeches, reflecting efforts by the Indian government to delink the former prime minister from India's past achievements. In contrast, Chinese President Xi Jinping recognized the role of Zhou Enlai. In his speech, Xi said that sixty years ago Asian and African leaders gathered to oppose colonialism and neocolonialism, with Zhou advocating "peaceful coexistence" and "seeking common ground while shelving differences."
Although Modi visited four small Afro-Asian countries last month, the Indian government's overall presence at regional forums is weak in comparison to China's. Just before the Bandung Conference 2015, the 54th Annual Session of the Asian-African Legal Consultative Organization (AALCO) was held in Beijing, where the Chinese Premier Le Keqiang delivered the keynote address. Even though AALCO is headquartered in New Delhi, surprisingly no high-level government official participated. The Indian government's continuous absence from other Asian forums such as the Boao Forum for Asia held in Hainan, China in March has also been noted. Which of course begs the question: What is India's interest in regional affairs? New Delhi has to understand that bilateral visits only will not given India an influential position in Asia.
History Repeats
When Chinese Premier Zhou Enlai was introduced to the audience of Afro-Asian countries during the Bandung Conference of 1955, the Chinese premier seized the moment and took the conference as a platform to commence friendly relations with neighboring Asian countries. The conference was a huge success and Zhou became the national face of Chinese foreign policy. His deftness triggered a rapid expansion of diplomatic and economic relations with a number of Asian and African countries. In less than three years from Bandung, China had established relations with Nepal, Egypt, Cambodia, Sri Lanka, Pakistan and Iraq.
Nehru's India meanwhile confronted a troubled neighborhood in the years between the periods of 1957 to 1964. Nehru, the voice of Asian cooperation, had to tackle a dispute with Pakistan over Kashmir. He also had to confront Zhou himself over Tibet and Aksai Chin, which finally led to the border war of 1962. India faced strains with other Asian countries, such as Nepal; the efforts of the Nepalese government to have the Soviets set up an embassy in Kathmandu suggested a desire to loosen ties with India, and to develop close bonds with other countries, including China.
Today, Beijing is cementing its ties with developing countries. At the Asian-African Summit in Indonesia it outlined a vision that at least rhetorically supports peace and unity. On the sidelines of the summit, Xi Jinping met with Japanese President Shinzo Abe. Although the significance of the meeting has been questioned by theinternational media and even though there is no synchronization between the Chinese and Japanese approaches to the unity and solidarity of Afro-Asian countries, the fact is that the leaders of China and Japan were talking for only the second time since Abe took his office. The meeting shows the willingness of both sides to repair a relationship damaged by territorial disputes and a bitter wartime legacy.
On the other hand, the summit in Jakarta became a platform for resentment between India and Pakistan, after Islamabad's National Security and Foreign Affairs Adviser brought up the Kashmir issue. Indian Representative, Secretary (East), Anil Wadhwa refuted Sartaj Aziz's remark on Kashmir and said that it was "most unfortunate" that an international forum was used to "make tendentious remarks about J&K, which is an integral part of India."
Bandung and New World Order
As at Bandung 60 years ago, the rhetoric about creating a new Asia-centric world order was a catchphrase of Bandung 2015. However, the difference is that 60 years ago India was at the forefront of efforts to build that world order and now that role is very much being played by China. Nehru's vision of India as a torchbearer of Asia has long been discarded. Although, India's Foreign Minister Sushma Swaraj called for the reform of Bretton Woods institutions such as the IMF and World Bank and promised to build a trade route through the Indian Ocean, China is actually way ahead in creating a new economic order with Xi's "One Belt, One Road" project. Most of the African and Asian countries that attended the summit are already closely linked to China on the economic front, through the Silk Road Economic Belt and 21st-Century Maritime Silk Road, international trade and infrastructure projects. China proposed the Asian Infrastructure Investment Bank (AIIB), which appears designed to serve as a substitute for the Bretton Woods institutions. At the end of the summit, participating countries also welcomed Xi's initiative to provide 100,000 training positions to citizens of developing Asian and African countries over a five-year period, and to hold annual gatherings in China for youths from Asia and Africa.
It is evident that the construction of a China-centric Asian order has gained prominence and traction at the Bandung 2015 conference, with most Afro-Asian countries now appearing to believe that the One Belt, One Road initiative illustrates Chinese commitment to assisting other developing countries in sharing the fruits of its rise.
Jayshree Borah is a Research Assistant at the Institute of Chinese Studies, New Delhi. She is an M. Phil in Chinese Studies from the Department of East Asian Studies, University of Delhi.