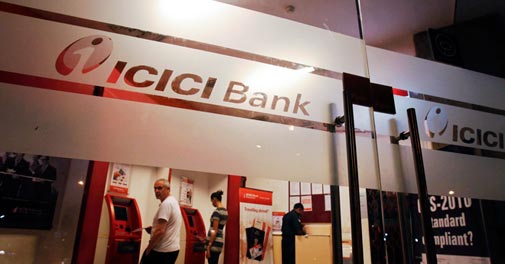 Photo: Reuters
ICICI Bank Ltd, India's biggest private sector lender by assets posted a 15 per cent rise in quarterly net profit, beating estimates, helped by rising demand for loans from retail customers and higher fee income.
ICICI's net profit in the quarter ended March rose to  Rs 2,652 crore ($434.36 million) from Rs 2,304 crore a year earlier, the bank said on Friday. This was higher than the Rs 2,550 crore estimates of analysts polled by Thomson Reuters.
Indian banks have recently shifted their focus from corporate lending to consumer debt in a bid to avoid an increase in bad loans by companies struggling in a economy growing at its slowest pace in a decade.
ICICI said its loan book grew an annual 17 per cent to Rs 3.4 trillion as of end of March. Retail loans grew faster at 23 per cent.
ICICI's net interest income, the difference between interest earned and paid, also rose 14.6 per cent to Rs 4,357 crore in the quarter. Net interest margin for the quarter was 3.35 per cent.
Indian banks have seen a surge in loan defaults over the past year, and have also started to boost provisions. ICICI said its provisions for bad loans had risen more than 55 per cent in the March quarter from the same year ago period to Rs 714 crore.
Net non-performing loans as a percentage of total assets rose to 0.97 per cent during the quarter from 0.77 per cent a year in the same year-ago period, but they remained below the sector average of around 4 per cent in 2013.
Shares in ICICI, which has a market value of nearly $25 billion, were down 2.42 per cent at 15:39 hours, underperforming a 0.7 per cent fall in the Bank Nifty and a 0.8 per cent fall in the Nifty.
The bank's smaller rival HDFC Bank on Tuesday reported a 23 per cent rise in net profit, the slowest growth in a more than a decade and slightly lower than estimates, as a weaker economy put the brakes on lending.
($1 = 61.0550 rupees)