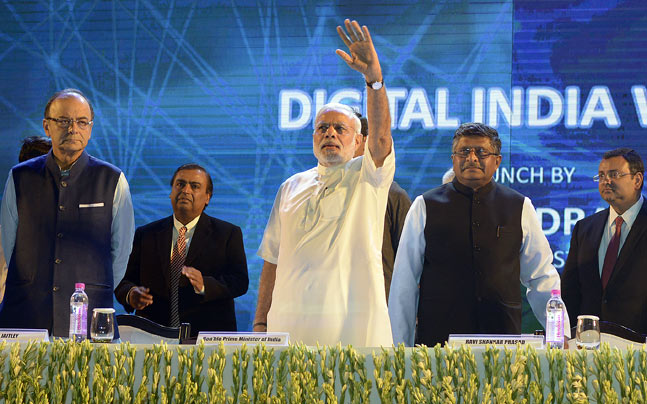 By S. Kumar
Narendra Modi's digital push could improve education and strengthen India's economy.
Over the weekend, Indian Prime Minister Narendra Modi toured Silicon Valley, where he met with tech's biggest names to get their ideas on bringing India into the digital world. As much as U.S. Internet companies from Facebook to Google look to the country's 1.25 billion residents as the next market opportunity, the relationship should be viewed as mutually beneficial. After all, America's tech giants could very well turn India's large and complex economy around.
After Modi's election in 2014, hopes were high that the pro-business leader would speed up market reforms to attract foreign capital and grow the economy. Those reforms, however, have been slow to materialize as political and social problems continue to plague the country. What's more, it's unclear if Modi can deliver, as investors like Jim Rogers point to modest GDP growth and lackluster manufacturing output as evidence of uncertainty. This is particularly important as China's economy slows down and world markets look to new avenues for growth.
Given India's challenges, Modi is now prioritizing the modernization of India's digital infrastructure. He recognizes that without a digital upgrade of India's educational system, any economic progress will be tenuous at best. Economic power in today's technology-driven global market requires an advanced workforce as well as social modernization – both of which depend heavily on education. A digital revolution can boost the two most critical aspects of Indian society required for a true economic renaissance, including education and consumption.
However, lacks qualified computer trainers to help train the next generation of computer-savvy workers. Its literacy rate has risen to over 70% since its independence from Britain in 1947. That's good, but still far behind the projected average world literacy rate of about 90% this year. India has continued to struggle with a large illiterate population. Not coincidentally, rural areas have higher illiteracy rates. The educational infrastructure in India is also deficient, with problems ranging from poor curricula, lack of resources for schools, and a dearth of good teachers to archaic cultural attitudes, especially toward girls.
More computers and better broadband can help mitigate this problem considerably. The Internet can be both a cost-effective and convenient way for students to gain the education they need and for the system to be able to reach a larger number of people in rural areas who might otherwise be left behind. Online courses can also be more interactive and visual, a factor that is important when teaching a rural and undereducated population. Even for students who are more advanced, the Internet expands the opportunity for higher learning and training for the more demanding and technical jobs of tomorrow.
Yet only about 20% of Indians have access to the Internet today. The country ranked 131st in broadband penetration in 2014, which translates to only 1.2 people with broadband access out of every 100. What's more, India ranked 155th in mobile broadband penetration, suggesting that 5.5 people out of every 100have access, according to a UNESCO report. This is less than some much smaller nations like Sri Lanka and Fiji. Also, despite there being 439,000 mobile network towers in India, only 700 of them are capable of supporting 3G or 4G data speeds.
These are serious problems that the prime minister aims to address by enlisting the expertise of U.S. tech giants. It should help that several leading CEOs are Indian, including Google's Sundar Pichai and Microsoft's Satya Nadella, who should be able to empathize with India's difficulties as well as appreciate its considerable potential.
The other big reason for Modi's digital push is that the Indian economy depends on consumption, which technological advancement can help boost by spurring ecommerce. Consumption accounts for 60% of India's GDP, according to the World Bank; yet only a tiny sliver – 1% – of the population shops online, according to the Wall Street Journal.
A big part of the challenge is that 80% of the population lacks a means to pay electronically for goods, according to a Morgan Stanley research report. All this still represents a very large lost opportunity that businesses could take advantage of in a more digitally sophisticated India. Indeed, as the same report also points out, the Indian Internet market could rise to $137 billion by 2020, and the nation could follow the path of China, where e-commerce has increased significantly over the past decade as Internet access has improved.
That's what Modi is trying to achieve now, and it's a smart move. A digital revolution is not just a big deal for India, but for the global economy as well. India's potential as a highly lucrative emerging market for foreign businesses, especially with China's economic future looking uncertain, is becoming increasingly important.
(S. Kumar is a tech and business commentator. He has worked in technology, media, and telecom investment banking. He does not own any shares of Facebook or other companies mentioned in this article.)