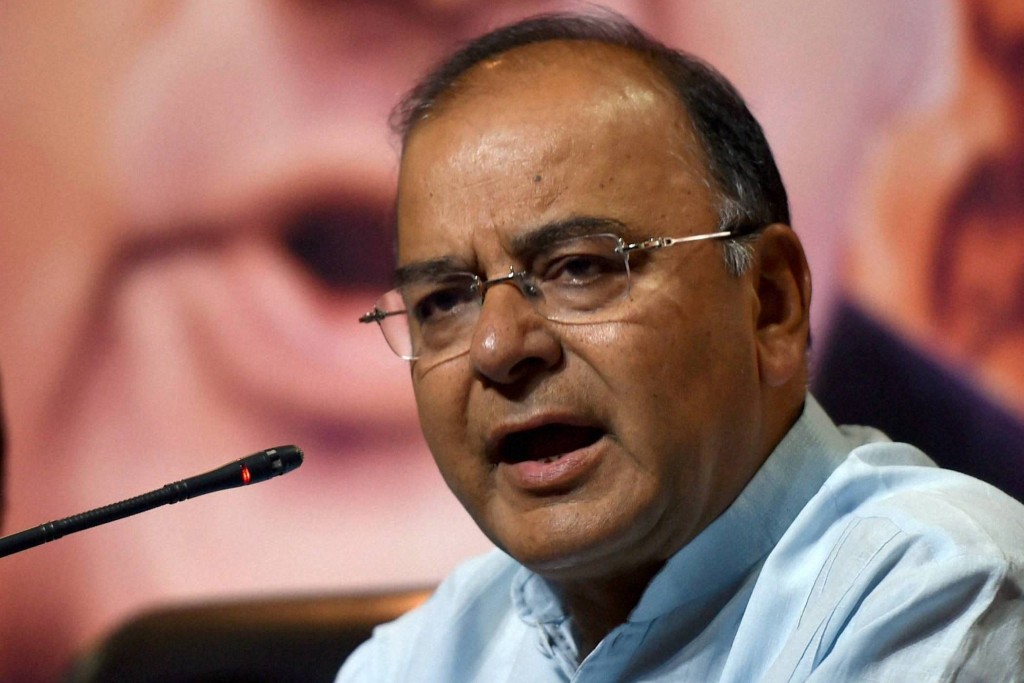 NEW DELHI: India is looking to spur public spending further to provide momentum to the economy since private investment is yet to kick in, counting on rising revenue from a growth recovery to set aside more funds for infrastructure creation in the country.
"We are trying to ensure that the difference between Budget estimates and revised estimates, as has been the practice in the past, is not there," FM Arun Jaitley told Parliament on Wednesday. "If at all, revised estimates may be a bit superior to the Budget estimates." Some green shoots of recovery were visible, he said. "That is why, additional amounts are being spent as far as the revised estimates are concerned."
Jaitley was replying to the debate on the first supplementary demand for grants in the Lok Sabha on Wednesday. The government has already proposed Rs 25,500 crore of extra spending through the supplementary demand, nearly half of which will go towards capital support to banks, which in turn is expected to help them lend more, sparking a virtuous growth cycle.
"In an adverse situation, we can touch 8 per cent (growth) if banks are recapitalised, GST (goods & services tax) implemented, stalled projects revived and infrastructure spending improves," he said.
The government will infuse Rs 70,000 crore into state-run banks in four years and they will raise another Rs 1.10 lakh crore from the market. The GST Bill, to usher in a uniform indirect taxation system throughout the country, is stuck in the Rajya Sabha which is unable to function because of Opposition protests over various issues. Jaitley made another appeal to opposition parties for their support on GST.
At a time private sector investment is slow, public investment has to increase, Jaitley said.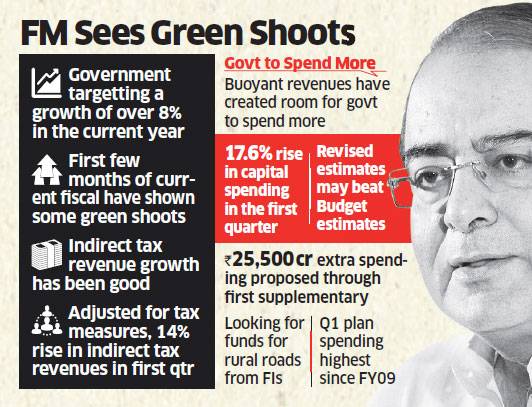 QUARTER OF PLAN FUNDS SPENT
The government has already spent nearly a quarter of plan funds in the first three months of the fiscal year, the highest pace of spending since 2008-09. The finance ministry has already directed ministries and departments to go full speed ahead on budgeted expenditure in line with government thinking. The minister said capital expenditure increased by about 17.8 per cent in the first quarter as the government looks to target 8 per cent growth this year.
Public spending has outstripped private investment, said Morgan Stanley's Upasna Chachra and Chetan Ahya in a note.
"Indeed, the (first-quarter) revival in capex is being led by the public sector, with investment projects under implementation… increasing by 16.5 per cent (from the year earlier) in the public sector versus a 1.1 per cent… rise in the private sector," they said.
Jaitley said the government is trying to steer the economy to a high-growth path and sought broad support for the endeavour. The minister said the country is seen as a bright spot globally and should seize the moment to emerge as a manufacturing hub as China slows.
He said 'Made in China' is now going to become costlier, articulating the widely held belief that the country has a great opportunity to turn Prime Minister Narendra Modi's 'Make in India' initiative into a success.
PICKUP IN INDIRECT TAXES
The finance minister cited a pickup in indirect taxes as evidence for the green shoots of recovery. This has created an "enabling situation wherein we are in a position to spend more. The government will spend Rs 70,000 crore, raised from additional revenue mobilisation measures, towards infrastructure".
Economists also see India as a bright spot given the drop in commodity prices and the likelihood that corporate earnings will turn around.
"India may continue to outperform its EM (emerging market) peers as commodities such as crude, gold, silver, coal and fertilisers together account for 40 per cent of India's imports," said a Deutsche Bank note. "The worst of earnings cuts may be over as (i) several macro indicators are showing improvement, (ii) the government has started to spend, and (iii) earnings have already been cut sharply since the start of the year."
The finance minister said the government had provided Rs 14,000 crore for the Pradhan Mantri Gram Sadak Yojana in the Budget and is giving another Rs 1,000 crore in the first supplementary for rural roads. If the trend in spending continues, the entire amount may get exhausted by the time of the second supplementary. "If revenues increase, we will try and add more," he said.
GST TO BENEFIT CONSUMING STATES
Jaitley said GST will hugely benefit consuming states such as Odisha and others in the eastern part of the country, when it's implemented.
"And, if some of my colleagues who are not present here today allow GST to pass, Odisha being a consuming state, your own tax revenues which you said were depleting will also increase," he said. "I do hope that an environment would be created by our colleagues in which they are back to participate in further discussions on several subjects," he said.
He also reiterated that GST has been backed by the previous Congress-led United Progressive Alliance government. "If, of course, my friends who are not present today allow the implementation of the GST, a proposal which was first mooted by the UPA government in 2006 and consistently supported by them, you will have a uniform taxation regime in the country," Jaitley said.