South Africa's gold output has been declining for several years. For more than a century, the country had been the world's largest gold producer, but it lost this position to China in 2008 and has since dropped in the global gold production ranks to sixth position, behind China, Australia, the US, Russia and Peru.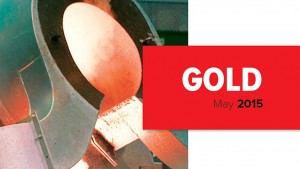 South Africa's gold production has declined by an average of 8.2% a year in the past ten years, with the country's gold production market share decreasing from 13% in 2004 to 5.3% in 2013. The contribution of gold sales to South Africa's total mineral sales has also decreased from 30% in 2000 to 12% in 2014.
The decline in South Africa's gold production is partly linked to an operating environment characterised by ageing mines; rising costs; falling grades; a strike-prone, yet underproductive workforce; electricity shortages; the threat of illegal mining and the lack of new technology to enhance efficiency and effectiveness in the industry.
In this context Creamer Media's Gold 2015 report reviews the global gold market and gold companies that have operations in Africa. It particularly focuses on the South African gold sector, including labour issues and electricity shortages, as well as prospects for the sector.
This report is a summary of information published in Engineering News and Mining Weekly, as well as of information available in the public domain. The report does not purport to provide an analysis of market trends.