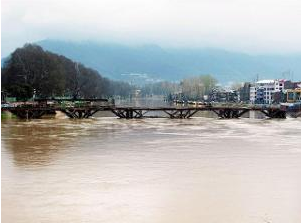 SRINAGAR: Residents of Kashmir valley heaved a sigh of relief with a dip in the water level of the Jhelum easing flood concerns even as the river continues to flow above the danger mark in the south and central parts.
Water level at Sangam in south Kashmir's Anantnag district had receded to 23.80ft at 11.00am as against the 27.50ft on Thursday. The danger mark at Sangam is 23ft, an official of the flood control department said.
At Ram Munshi Bagh in the city, Jhelum was flowing at 21.20ft against the peak of 21.65ft in the wee hours Friday, an official said.
The water level in the Jhelum and its tributaries rose sharply following heavy rainfall on Wednesday, which had prompted authorities to issue a flood alert for south and central Kashmir.
Several areas in Anantnag district, including Nai Basti, Takia Behrampora, Shamsipora and Hassanpora, were inundated by the overflowing Jhelum and its tributaries.
Some areas of Kulgam district, including Qoimoh, Mir Bazar, Asthal and Devsar, were affected by the flooding of the Vaishav stream.
Several bridges and roads have been washed away in south Kashmir with the Tral area in Pulwama district bearing the brunt of flash floods.
Minor breaches were been reported in embankments of water bodies at some places but these have been plugged by officials of the Flood Control department.