HELSINKI, June 12 (Xinhua) — Dressed in traditional clothes, a group of young leaders from the EU and BRICS countries are gathering in downtown Helsinki to exchange ideas on a newly launched platform aiming at building a dialogue channel between the EU and BRICS countries.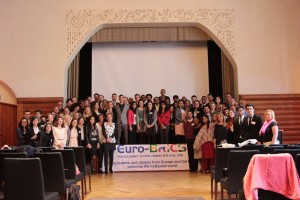 The meeting is part of a broader series of seminars called EU-BRICS sessions, which have been organized annually for the past six years. BRICS, namely Brazil, Russia, India, China and South Africa, represent the emerging economies.
"The BRICS represents the new world order, new world organization which is more multiple," said Marie-Helene Caillol, president of the NGO LEAP 2020 which organized the conference.
She said the old international system does not have capacity to integrate the new evolution, and there is risk that "we end up in the risk of bipolarization" with the western-based system remaining and the new system emerging.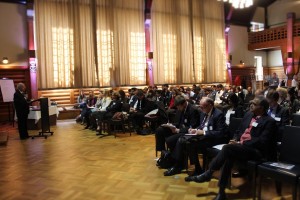 The LEAP2020 made an early analysis that there was need for the developed world to recognize the new trend, and then it started the dialogue project in 2010, bringing together think tank researchers from Europe and Russia, and later extended to include other BRICS countries.
In 2014, the dialogue was disrupted by the Ukraine crisis, but enthusiastic young people from relative countries managed to set up an internet meeting expressing their eagerness to find solutions to end the crisis and the problem of overlapped malfunctioning unions.
"We believe the EU-BRICS project is a project for the future, so it is far more interesting to have youth providing the energy, vision, etc, and we elder ones are just backing, helping," Marie told Xinhua.
Yan Shaohua, a Chinese delegate who is studying EU International Relations and Diplomacy at the College of Europe, said that there have been bilateral dialogue structures between the EU and BRICS countries, but the BRICS as a bloc has not yet established a dialogue mechanism with the EU.
"A dialogue between the EU and BRICS is both necessary and desirable, as the two represent the largest group of developed countries and emerging countries respectively, which are of great significance to the reforming of the global governance system," he said.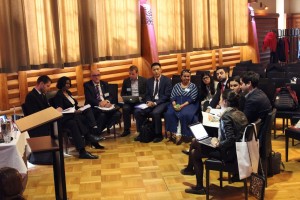 His words were echoed by Alexander Zhebit, Professor of International Studies at the Universidade Federal do Rio de Janeiro, who pointed out the challenges for setting up such a dialogue between the EU and BRICS.
"BRICS is now forming a special platform for its financial and monitoring changes and it much depends on how this institutionalization is going to proceed," he said.
However, Marie seemed more optimistic about the effects on real politics.
"Today many counties' policy makers don't have much power to produce change," she said, "and it is useless to ask them to do what they cannot do."
Realizing the fact of the weakness of some decision makers, the youth choose to use technical tools to back the government and provide strength to produce change, she said.